After last night, it's a house-bound morning
Once I'd made a good dent in all the interneting that needed to happen in the wake of the
Yarn Harlot
zine review, I dusted on some
eyeshadow
and rushed out the door to go see
Lal
at
The Drake Underground
.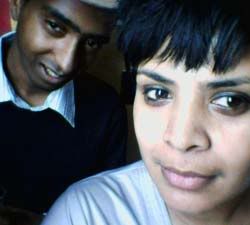 (Here's two of Lal's members at Grapefruit Moon.)
Kim bailed on me at the last minute so I was on my own. I ran to the
bus
stop. I stood and waited. I thought about my bike, and how I never have to do any waiting when I'm travelling by bike. I also thought about frostbitten hands and cold headaches and wet splatters up the back of my nice coat - these thoughts kept me from turning back around and unlocking my bike from the porch. I continued to wait. I considered trying to hitch down Ossington Ave to Queen Street, but people don't hitch in the city. I considered putting on my toque and messing up my new hair. The bus came. The hair was saved.
The show was really great - a different crowd from the folks at the indie shows I normally go to, but there were a number of people I knew. It felt good to dance. It was good to be at a show where the performers explain their songs a bit and don't shy away from politics. Lal's big on environmental responsibility and activism an' shit. Sweet.
I made the mistake of turning on my computer again when I got home and didn't get to sleep until after 4am. Needless to say the phone call (that wasn't even for me!) at 9 was not appreciated. Don't they know I'm fighting a cold? (But will that keep me from going out again tonight? Not a chance.)
Okay, so the knit zine ordering seems to be going along swimmingly and I thank you all for your enthusiastic interest. Lemme know if you're also excited about veg cooking or herbal healing and I can give a bit of a run down on my other zines - it'd save on postage to order more zines at once. (Gawd, aren't I the shameless plugger of my own work this morning?) Commenters to the blog please note that I am not snubbing you - if you don't put your e-mail addy right in with your comment, chances are I don't know how to get back to you. (I'll fix this as soon as I can.)
There will be no knitting today as I have got to make some sense of my disasterous room. (Do other people's bedrooms get ridiculously messy post-highschool age? I feel extremely un-adult.)
There is no way I'm going to this pilates class at noon on only 4 1/2 hours sleep.