Disorganized
My inability to locate
Denise
last night forced me to do a little stash tidying. I pulled everything from my bedside corner stash up onto my bed and started putting things in bags.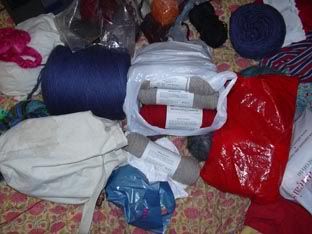 There was a Mission Falls cotton bag, a Lamb's Pride Worsted bag and another one for Bulky, a Manos bag, a couple bags for this ropey wool called Kross that I bought a mass of at Romni's summer sale last July (and was immediately confused about what to do with it), a mohair bag, a i-doubt-i'll-ever-use-this-yarn bag, an unfinished-projects bag with other individualized bags inside - to name a few. Large cones and skeins of slub were also part of the mix. I found Denise, but to my horror, my US 8s were nowhere to be found. Where could they be? My treat for the night was supposed to be the Ericat Hat, but I needed the 8s! I frantically scanned my brain for any of the dozen or so projects I have on the go and the needles they'd be on. Nothing came to mind. I found myself wishing for a second Denise.
No one should be multitasking that much.