Does this make me a bachelor, or a spinster?
It's Friday night, and
controller.controller
has sumpin' going on tonight, but all I wanna do is stay home, knit, and maybe watch
Harry Potter and the Prisoner of Azkaban
or read a book. I've arrived home and eatten a dinner of soy cheese, last-night's popcorn and a mango (that doesn't say much for someone who's writing a cookbook, hey?). And some tea. Does this sound like bachelor behavior to you? Spinsteresque? Or just unabashedly ridiculous as I'm willing to admit to it?
I spent the day with a lovely almost-two-year-old and her three-month-old sister, but I hesitate to write about them until I check with their moms. I baked Apricot Lemon Cornmeal Biscotti. I raced down to
Lettuce Knit
just before close with a zine delivery and picked up some Manos yarn to make myself an Ericat Hat (from
Take Back the Knit
).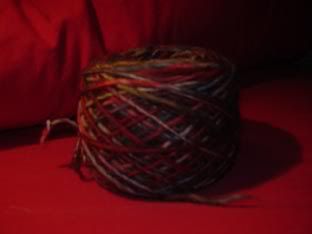 So if you've read the sidebar, you know that
Take Back the Knit
is not my first zine. I have four vegan cookzines under my belt, an introduction to herbal healing and others that are mostly out of print. If you're outside Toronto and were gonna order a copy of the knit zine anyway, you may wanna add one of these to your request. Presumptuous sounding, maybe, but some of you asked...
Ripe #2
(blue cover) was my Winter Solstice gift to people in 2003 and it contains 40 winter recipes (aka comfort food) - all vegan, though not righteously so.
Ripe #3
(I'm harvesting snowpeas at my friend's organic farm on the cover) was published last August and it's 80 pages of recipes (including Ginger Sesame Pasta Salad, Cannelini Kale Soup, Indian spice mixes, Rhubarb Crumble and Zen Brownies) and food-related writings.
Seed
came out in the summer of 2003 (though the cover's changed since then). It's a way-expanded version of the handout that accompanies my Introduction to Herbal Healing workshop (based on a brief
herbal apprenticeship
I did out in Nova Scotia and my self-education since then) and includes recipes for lip balms, creams, salves, and a section on d.i.y. gynecology. They are $3, $4 and $2 respectively. They're all quarter-sized (if you don't know zine-speak, that's 4 1/4" x 5 1/2"). Tack on $1 for postage per zine just to be safe, and if the mailing amount is less than anticipated I'll send you a credit. (By the by, for those of us here in Canada with our silly dollar coins, they typically travel well when taped to a piece of cardboard, or in their own mini envelope - marsupial styles.) If you're unfamiliar with the way zines get ordered around here, see Wednesday's post (and for those who asked, mail can be addressed to Kitchen Sink Distro or C-Cup Productions or just me, jae).
Here, I'll include this recipe to get you started (this is from
Ripe #3
):
Sweet Potato Soup with Coconut Milk
6 cups sweet potato, peeled and chopped
1-2 tbsp. vegetable oil
2 tsp. ground coriander
2 tsp. ground cumin
1/2 tsp. cinnamon
1/2 tsp. turmeric
1 medium onion, chopped small
1 1/2 -inch piece ginger root, peeled and grated
2 cloves garlic, minced
1 tsp. sea salt
1/2 cup coconut milk (not light coconut milk)
a coupl'a shakes cayenne (about 1/8 tsp.)
a few springs of fresh cilantro, garnish
water as needed
Set a large pot of water on to boil. Once boiled add potatoes. Once soft, remove from heat and drain off the water (don't discard that water though, you'll need it soon enough!).
In a large skillet, heat the oil over medium-high. Toss in the coriander, cumin and cinnamon and stir around for about 15 seconds before adding the onions. Saute for about 5 minutes before adding the ginger and garlic. Continue to heat until onions are translucent and soft (about 10 minutes in all).
Scrape it all into the pot of cooked potatoes and add the salt, coconut milk and cayenne. At this point I would start pureeing with a hand blender, but if all you've got is a regular blender then you'll have to portion it out and give it a whirl. Add reserved potato water (about a 1/2 cup at a time) to reach desired consistency.
And finally, Michael and I saw
the Sea Snakes
with the Wooden Stars down at
The Horseshoe
last night. It was a nice show (I have got to get me some good earplugs!), though the bar was bloody freezing!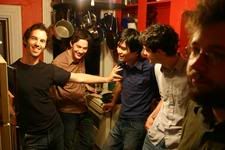 (See how sweet-looking these sea snakes are.)