Everywhere, nowhere
I've half figured out the mystery of the missing Denise 8s. I last used them to make my lime green
Hallowig
back on October 31. I called Michelle, who I was staying with in Sackville NB around Halloween, and she said she hadn't seen them but she'd keep her eye out. (Michelle is also a posessor of Denise. What if she has two pairs but she doesn't notice? It's like the time that my mum saw her cat in the living room and then saw it again in the kitchen and had to double back to discover that one of the "cats" was actually a racoon that'd broken into our house...! Anyway...)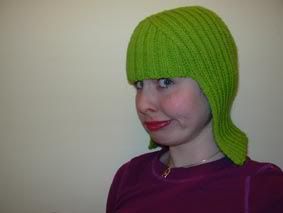 I went over to my dad's for dinner this evening. Within five minutes of my arrival my brother (recent birthday boy) had found my recently completed blue afghan-turned-scarf and wrapped it around his head in an awkward sort of way. It was the perfect photo op, but alas I had no batteries left in my camera since I took all these food photos at work today. All I have to show you is this: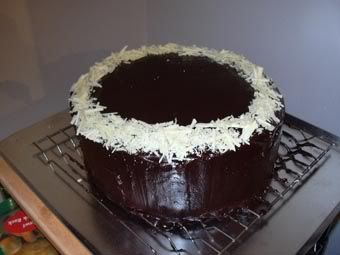 My first sorta-pro cake. (We decided a photo should be taken before it was transfered to the fancy platter just incase it didn't make it.) I've made tonnes of cakes before, but not with this kinda stress.
You get paid to make cakes?
you ask.
How fun!
It sounds far more thrilling than it actually is. Working with dairy and eggs that aren't organic? (Guilt, guilt!) Having the cream curdle as I start making the ganache? (
Sorry cows
I whisper as I pour it down the drain...) Lack of patience as the domed top gets sawed off the cake? Getting the filling to the right temperature/consistency for spreading? Imperfections as the icing is spread? Eating so many chocolate "drips" on an otherwise empty stomach that I actually consider quitting chocolate? Shaving impossibly small pieces of white chocolate with a cheese slicer... Whine, complain, whine, complain - in truth I admit that it ain't really all that bad.
I'm home now and uncomfortable because one, it's cold in my room and two, because Kim and I are fighting so we're not hanging out in the kitchen anymore, which is what we often do together on Sundae evenings (or any other evening of the week for that matter). I feel like... gawd, I am so
not
getting into this here. Needless to say, I'm moving back to Peterborough in April. More on that later.