J'apprends
I think I already mentioned that I'm taking
a French class
Tuesday mornings. I was surprised when I took the placement test that they'd put me in an advanced class - impressed with myself, but surprised. Maybe my French skills were more dormant than non-existant, and that's what'd been detected. When I went to do my homework for today's class I had quite the panic, as I really couldn't decode what I was supposed to.
Great,
I thought to myself.
I got all puffed up about being some fancy Frenchie and have set myself up for disappointment because I'm gonna have to be bumped down to the intermediate level.
And, I was supposed to come prepared to speak for five minutes on a topic of my choice. Five minutes?! I can't even string together two sentences in a satisfying way! I met with the teacher before class and she acknowledged that the homework was hard and said that she didn't think I'd be challenged enough at a lower level. Whew. Class began and I spoke about "La Cuisine Vegetalienne" (vegan cuisine). It was okay, but I had to do a lot of "Comment dit-on _____________(insert English word here) en Francais?"
On the walk home I stopped at
Queen Video
to pick up a French movie to keep up the momentum. I got
Etre et Avoir
and Linda came over tonight to watch it.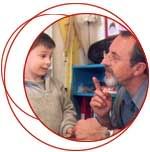 How incredibly precious! It was almost too sweet/poetic/lovely/real to sit still and watch. Maybe it's because I'm so enchanted with children and I have fantasies at times about teaching kindergarten and living in the French countryside. If you think you can accept the non-speedy pace, I highly recommend it. You can put on the English subtitles.