Julie's the sweetest!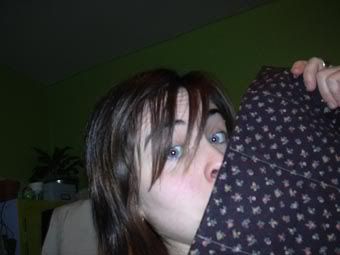 I just arrived home. Saw the familiar pile of zine orders that whichever one of my housemates who sorted today's mail had so kindly placed outside my bedroom door, and something else... a package. My first thought was
I said well-concealed cash, but this is a little much....
But then I opened it to find that Julie, some obviously lovely knitter from Westford whom I've never met before, had sent me a circular knitting needle roll she made herself! Oh my goodness! What a thrilling random act of kindness! On a day where I'd been feeling pretty miserable I now feel so... so warm and lovely and grateful and and ... Gawd, I gotta practice putting random lovelinesses out into the world more often myself. It's just so great. Thank you muchly, Julie!
And if Julie were here I'd serve her up a big piece of cake. Since that ain't possible, I'll post the recipe for y'all (lemme know if you try it - I'd like to know what you think):
Chocolate Chai Cake
The first time I made this cake I just used a very strongly steeped chai in lieu of milk. Now with the addition of ground spices, there's no need to brew any tea.
1 1/2 cups light spelt or unbleached wheat flour
1/4 cup cocoa powder
2 tsp. cinnamon
1/2 - 1 tsp. nutmeg
1/2 tsp. ground cardamom* (or ground cloves)
1 cup sugar
1 tsp. baking soda
1/2 tsp. sea salt
1/2 cup canola or sunflower oil
1 cup (non-dairy) milk or water
2 tsp. pure vanilla extract
2 tbsp. cider vinegar
1/2 cup chocolate chips (optional)
1. Preheat oven to 375oF. In a bowl, stir together flour, cocoa powder, spices, sweetener, baking soda, and salt.
2. Pour in the oil, milk and vanilla extract. Mix with a fork just until all the flour has been absorbed. Once smooth, add the vinegar and stir quickly - you'll see pale swirls as it reacts with the baking soda. Stir just until the vinegar is evenly distributed throughout the batter. This would be a good time to add the chocolate chips if you like.
3. Pour into a lightly oiled and floured 9-inch cake pan and bake for 25 to 30 minutes. Test with a knife to see if done. Serve warm, or let it cool and then ice or glaze it, or simply dust with confectioners sugar.
Chai Icing
2 cups icing sugar (often you can find organic powdered sugar in health food stores)
2 tbsp. cornstarch
1/4 cup non-dairy non-hydrogenated margarine (or organic butter)
2 tbsp. (non-dairy) organic milk
up to 1 tsp. cinnamon
up to 1 tsp. ground cardamom*
a pinch or 2 sea salt if marg/butter is unsalted
In a medium bowl or food processor, combine the icing sugar, cornstarch, marg and milk. Mix until smooth, then add in the spices (and salt if needed) to taste. Adjust measurements slightly if needed for a smooth, spreadable texture.
Spread a thin thin layer of icing over the cake, and then refrigerate for 10 minutes (this is called a crumb coat). Pull the cake out and coat with rest of icing, starting from the centre and working you way out to the sides. Garnish with a combination of chopped and whole raw almonds if desired.
* Because I only had cardamom pods, I tossed 'em in the coffee grinder and whirled 'em around for a while. They weren't the fine powder I was hoping for, so I passed it through a mesh strainer. (In an attempt to be really detailed, there was only a fine cardamom powder in the lid of the grinder, so I used that in the icing, where the texture felt more important.)
Labels: cake, chocolate, cocoa, recipes - desserts, spelt flour, spices