Put it on repeat.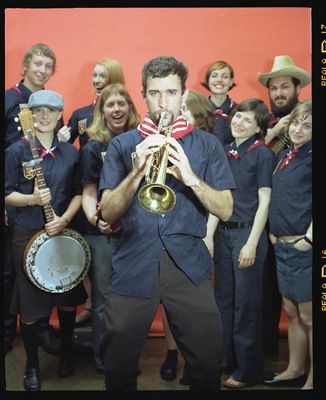 Michael burnt me a few CDs a coupl'a months ago. "Have you listened to that
Sufjan Stevens
one?" he'd inquire on numerous occasions. "Which?" I'd respond. "You know, it's called
Greetings from Michigan
?" he'd remind me. "Oh yeah, it's okay," I'd reply, having not really listened to it at all.
But I called Michael from work today. "It happened," I said. "What?" he asked. "I've just listened to
Sufjan Stevens
. I love it."
I predict that
Michigan
will be to me this year what
Jim Guthrie
's
Now More than Ever
was for me last year. The beautiful all-purpose album. Listenable when you're all emotional, when you wanna sing along, or you just want background music... and it won't be offensive or jarring to young children.
After speaking to Michael, I called up
Jamie
who I'm seeing for lunch on Thursday. "Let's play a game," I said. "Okay," he sounded hesitant. "I want to introduce people to new music and I wanna know who other people are listening to. How 'bout we both burn eachother CDs to exchange on Thursday?" He agreed.
Too bad we're in that weird part of the year where all my favourite musicians seem to be hibernating or off in warmer climates.
(And for the record, I don't consider myself an unethical burner of CDs. I often burn CDs to check 'em out and then buy them directly from the artist when they pass through town.)
In knitting news, I am hastily trying to finish a ribbed oatmeal-coloured lopi toque that was a bit of a mess from the start as I used freshly-frogged and therefore kinky yarn. Then I can plug my
Denise
8s onto that
Denise
cord and be on my
Denise
way with my Ericat Hat.