Romantic afghan - the knitty gritty
Despite it's immediately apparent luxury,
Le Bouffant
was a little hard to purchase at $48 a skein. You get a pound, but Denny says I'm gonna need 3 (or 4 maybe?) of them. That feels like a lot of money, even for an heirloom. Good thing there's no dyelot, so I can buy them one at a time.
Megan
suggested I adapt my fancy scarf pattern to afghan size. Good idea. Just add a seed stitch border. 12 or 15 mm needles, she said. But
Denise
only goes up to 10!! I don't know if I could do this project without Denise. She's my number 1, my go-to girl. So I knit up a swatch on my biggest Denise needles and hoped for the best: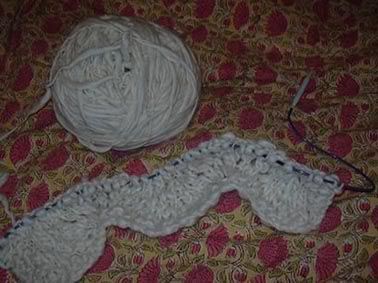 Wednesday I'll take it to S n' B and see if folks think it's too tight. I don't think it is. Well, not really - it'll be good practice in keeping my knitting loose.
PS. I figured it out - those who aren't a part of the Blogger club can now commment on posts "anonymously". Thanks
Laura
.