Well fed
My one sleep-in morning of the week and I woke at 6am.
I'm fuuuullll!
my belly continued to complain. That's what you get for having a potluck with your five food-enthusiast housemates and their food-ethusiast friends. So much eating for so many hours. Everything I'd read in
Eating Mindfully
(this great book I picked up recently) thus far lept out the window. And there's still tonnes of food left.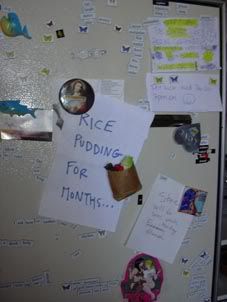 (In our house, it's important to leave notes on the fridge regarding its contents.)
So the knit zine orders started rolling in on Monday, and they've been coming in greater numbers everyday since.
The US cash'll come in handy when I go to Chicago next week (not that I'm as thrilled as I might be by a trip where I wasn't working like crazy for four days and then immediately returning home). Also Monday my mum brought over this really beautiful old trunk that used to be David's (her partner) father's - perfect for aiding in the yarn stash storage dilema.
I think I'm a full-on ADD case when it comes to knitting projects - this morning I had this idea for this stripped lopi scarf in fisherman's rib for a cerain someone...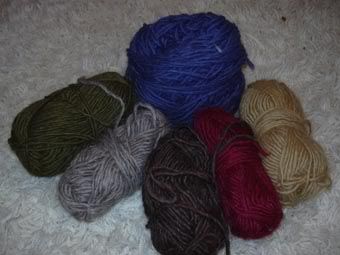 ...but that'd mean abandoning other projects - my mum's Christmas scarf, the romantic afghan, the new fancy scarf, my brother's toque... to name but a few.