Wheeeee! (it's time to talk about the zine)
I'm excited!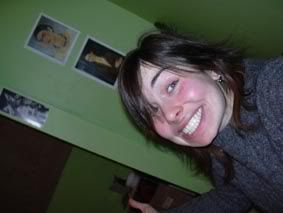 (As you might notice, I am also congested.)
I couldn't stay for long, but I had to stop at Stitch n' Bitch on my way home from my haircut* this evening to get the okay on my afghan swatch (Turns out I have to at least bump my needles up to 12mm, according to
Megan
). I walked in the door and folks were all like "Did you see your mention on
Yarn Harlot
today?" and I was all like "No...
really?!
That's so exciting!!" and they're all like "Watch out, you're gonna have to make more copies. You do mail order, don't you?"
So of course I raced home to check it all out. (Gee, I wish I had a more impressive blog for y'all to see. And, I am in a bit of a panic because I don't know how to reply to comments yet and I don't want to be rude to anyone.) My e-mail inbox had 27 messages asking how to get a hold of the zine, so I figure it's time to lay out the deets:
It was around Christmas that I finally put out the first issue of my zine
Take Back the Knit
.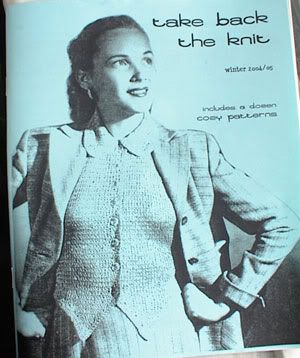 (Steph, I borrowed yer pic -- thanks.)
It'll come out twice a year for as long as I can sustain it.
*Winter edition, summer edition* rep.
This issue is 56 pages, and was brought to you with the help of seventeen lovely contributors. There are stories, tips, anecdotes and a dozen patterns. I'm pretty proud of it, and extremely grateful to all who helped.
If you live in Toronto, you should go to
Lettuce Knit
,
the Toronto Women's Bookstore
or Uprising Bookstore and pick one up. If not, you can send me $6 ($5 for the zine + $1 fer postage) in the form of well-concealed cash. If you live in Canada, send Canadian currency; if you live in the States, send USD (to accomodate for extra postage costs). It has just occurred to me that posting my home address on the internet is a little funny, so e-mail me and I'll pass it on to you. At least you now have all the other deets.
Oh, and if you too want to feel all popular and published, submissions for the spring/summer issue are due March 28th.
*P.S. Live in Toronto, or even near Toronto? Less than excited about your conventional hairdresser? You want
Nico
to cut yer hair. Sometimes I even want to stop people on the street who have less-than-wonderful hair and say, out of the kindness of my heart of course, "I know a really good hairdresser if you want his number."