Dasa jae 'carf
The funniest part of my day was finishing off that eyelash scarf for my favourite two year old. As I was knitting the last few rows she was making enthusiastic (not to mention repetitive) comments like: "Habbit peas?" ("Have it please?"), "Dis a mie" ("This is mine"), and "Dasa jae 'carf" ("That's a jae scarf," meanning "jae made that scarf"). The novelty of the challenging-at-times-to-understand three word sentance has yet to wear off. Once I'd cast off, we walked down the street to the library for a little light reading and then stopped in at
Karma
where she happily showed off her new garment to Michael.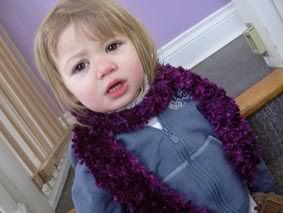 (She's not actually upset in this picture, she was just
very
interested in how the camera worked.)
As this entertaining two year-old has
another
cold, I now also have
another
cold. Went down to my
ceramics class
and promptly left as I knew I just needed my bed and a pot of tea.
Winter and sickness? Boo. Bring on spring.