Foodie Fridays
I noticed that the two times I've posted recipes thus far have been on Friday, so I think I'll make it three for three. In fact, let's make every Friday recipe posting day, 'kay?
What'll be this week? How 'bout this? (it's delicious):
Aaron's Barbecued Tofu with peppers, mushrooms and onions
1 cake firm tofu, rinsed, patted dry with a clean tea towel and cut into bite-sized cubes (about 2 cm)
1 green pepper, cored and cut even bite-sized pieces
8 (or so) cremini or white mushrooms, rinsed and quartered
2 small or 1 medium onion, halved and then quartered
1/4 cup tamari soy sauce
1 tbsp. oil
the sauce:
3 tbsp. tomato paste
1 tbsp. natural peanut or almond butter
1 tbsp. apple cider vinegar
2 tsp. chili powder
1 tsp. mustard
1 tsp. blackstap molasses
2 garlic cloves, pressed
a few dashes of hot sauce or cayenne
generous seasonings of freshly ground pepper
1. Place the tofu and the vegetables in a shallow baking dish, ample enough for everything to rest in one layer.
2. Combine the tamari and oil and pour over the vegetables. With a rubber spatula, toss gently to coat. Let marinate for at least 30 minutes, or up to 4 hours.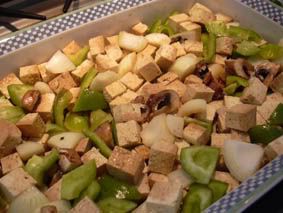 3. Mix together all the ingredients for the sauce. Let sit 30 minutes to allow the flavors to meld.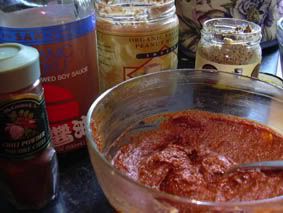 4. Preheat the oven to 450oF. Slide the tofu and vegetables in to bake for 15 minutes, tossing once with a spatula.
6. Remove the baking dish from the oven. Spoon on the sauce and gently toss to coat evenly. Return to the oven and bake for an additional 15 minutes, or until lightly browned. Let sit 10 minutes and then serve (perhaps with quinoa or rice and salad). Serves 3.
On a totally differnt note, I am embarrassed to say that the toque is not yet done.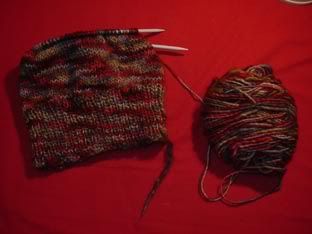 I have spent the day as horizontal as possible with some wicked flu (- here's hopin' it's the 24-hour kind). This is the first time in a number of hours that my eyes have been open for more than 3 minutes.