Knitting? What knitting?
I'm embarassed to have a weblog that was inspired by my love for knitting when I don't even want to write about knitting. I continue to be unenthused about the projects I have on needles, but more pressing at the moment is my disappointment in myself for not knitting things that are more challenging and therefore impressive.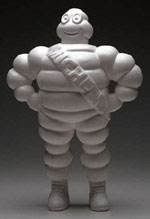 I was so discouraged by my first real sweater, since it made me look a little like the Michelin man, that I am inclided to stick primarily to less size-sensitive projects like toques and scarves.
Tonight at
SnB
I finished off my first Hurry Up Spring Armwarmer (which was kinda shoddy looking for some reason), and cast on the second, but I just couldn't find the energy to progress any further. In a momentary burst of optimism I bought a copy of the
Rogue
pattern, and headed home.
Gotta pack for Chicago. The limo arrives at 6:30 tomorrow morning. Do you suppose I can throw my Britton DPNs in my carry-on? I think I'll try.