A li'l a this, an' a li'l a that
I worked on that ribbed oatmeal lopi toque in
French class
this morning. Afterwards I made my way over to
Karma
, and got comfortable sitting on the produce table to finish off the last few rounds of the damned thing while Michael bagged salad mix and we chatted. When the hat was ready to come off the DPNs I used a twist-tie as a darning needle to thred through the live stitches. What else can you use when you're finsihing off a knitting project while hanging out at your food co-op? Admittedly, I was impressed with my own level of resourcefulness.
I have no toque picture for you at this point, because it went straight onto Michael's head. I was pleased as it's the first toque I've ever liked the look of on him, so I wasn't about to take it home again to wash it in Eucalan and have it (the toque) pose for posterity.
All this meant that it was time to start the Ericat Hat - so here's the beginnings of that: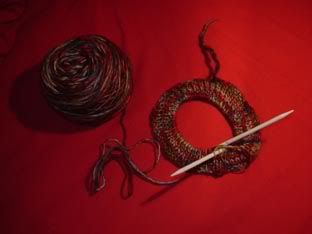 In other news, it turns out that
Sufjan
, who I wrote about yesterday, is a knitter. Aren't you more inspired to find out about him?! After reading this, I promptly wrote to him to ask if he'd consider writing for the next issue of the knit zine.
Also, you can rest assured that
Take Back the Knit
orders are being filled slowly but surely - a whole whack of 'em went in the post on Monday. Zine submissions for the
Bookmobile project
were supposed to be in the mail today, but hopefully I won't be ignored completely if it gets postdated tomorrow.
Vegan Freegan
and the first two issues of
Beating Around the Bush
toured with them a few years ago, so I'm hoping for similar acceptance luck in 2005.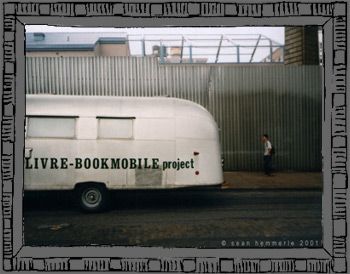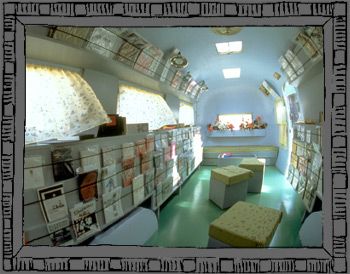 Sophie's comment this morning, and my inability to reply to it considering her e-mail address wasn't in the body of the comment, was the kick in the ass I needed to switch up the way folks can comment around here (Sophie, write me again if you're reaing this!). I think it's better now, and I hope you all think so too. You know, when I was just a blog-reader and not a blog-writer I didn't really get commenting. Now that I have a blog to call my own I feel compelled to encourage you all to simply say hello even so I know I'm not just talking to myself. Please. And thank you.