Low energy evening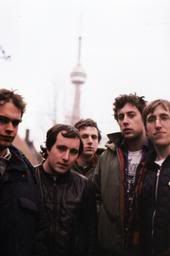 The Constantines
show last night was great. I think I preferred it to the show they'd played at the same venue back in November, though I doubt anything will ever be able to compare to the show they played back in October at
the Montreal Pop Explosion
. It was in a pretty intimate venue and I had just come back from sitting a silent ten-day
meditation intensive
, so I was very
fresh
for the experience.
I think this is the first time that I've been to a Cons show and not knit. Last summer it was my mohair cellphone cozy, in the fall it was a stripped scarf for Olivia... I'm not really excited about anything I have on needles right now. The right needles to start
my romantic afghan
are on order, I'm knitting a purple eyelash yarn scarf for a favourite just-turned-two year-old that's boring and slightly annoying in that way that novelty yarns often are, and everything else is just plain uninspiring. I think the real problem is that I love knitting toques too much and I feel lost when I don't have one on the go. All I want to do tonight is lie in bed and emit the lowest frequency of energy that I can. I'd watch a movie if I had one that interested me. Instead I've been
Googling
every silly little thing I can think of. I want Kim to come home from busing at Terroni with freegan treats - like broken pieces of flourless chocolate cake, soon-to-be-stale biscotti and melted tiramisu.