Meow?
Just finished off the Ericat hat.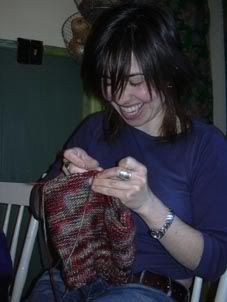 (
How can she see with all that hair in her face?
you may be wondering.) Kim caught me in a rare moment - I am seemingly enjoying myself, though that could hardly be the case because I super-dislike finishing (this applies to knitting, zines, whatever). I am an instant-gratification kinda grrl and I always get on edge when a project is coming to an end.
Why can't I get this done faster?!?
Kim cooked up some rapini with garlic and shoyu, and James did impressions of this "kitty-cow" he'd met once, while I enjoyed the cozyness of my new head warmer.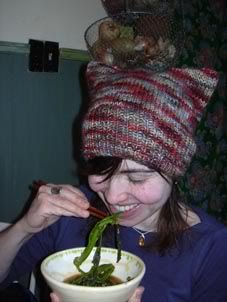 This is a funny picture as it lends itself to a couple mentionings:
1. Rapini is somewhat difficult to chew.
2. The bowl I'm holding is one I made myself.
3. I hold chopsticks incorrectly. (Hey, it works for me.)
4. The fruit basket in the background (that looks like it's perched on my head) is loaded down with onions, apples, squash, potatoes, ginger root, corn chips, etc. and had fallen on me about 20 minutes before. Someone's gotta fix that thing - it's hazardous!
5. This camera does not do justice to the beautiful colours in this yarn (Manos #114).
6. I'm not sure I finished the hat off correctly. Erica says to sew it right-side-out, but it looked funny to me so I undid it and re-did it inside-out. Then I couldn't really get it to gather the way her's always do. Still, Kim kept saying, "Oh my god, it's so cute."
I'll be wearing it to
the Brampton Indie Arts Festival
tonight.
The Phonemes
and
Sook Yin Lee
are playing.