One day delay
Damn! It just occurred to me that yesterday was Friday, and the second Friday in a row that I didn't post a recipe like I was supposed to. Chalk it up to a temperature of almost 100oF, and having to run around town anyway because my
phone
died and it's the only phone I've got. (
Rogers
is an aweful corporation in my humble opinion.)
Okay, let's see now... what recipe should I post?... Of course, something warm and nourishing:
Miso Soup
Miso, a paste made from fermented soybeans and often a grain like barley or rice as well, has wonderful healing properties, so this soup is a great alternative to chicken soup when you or someone else is ill. Careful though, miso loses it's healing properties when heated at too high a temperature, so add it last and don't let it boil! (and certainly don't put it in the microwave.) Shiitake mushrooms are an important part of this soup too as they're great for strengthening and detoxifying.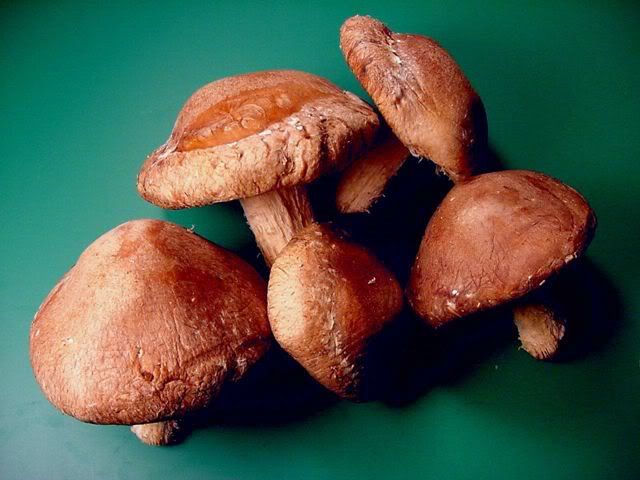 1 large onion, chopped
1-2 tbsp. oil
4 cloves garlic, grated or minced
1 inch fresh ginger root, grated
2 medium carrots, (peeled if not organic and) sliced in rounds on a bias
1/2 - 1 lb. firm tofu, cut in 1/2" cubes (optional)
6-8 shiitake mushrooms, sliced (cremini or white mushrooms are an okay substitute)
1-2 cups chopped kale or bok choy, or halved snow peas
1 6-inch piece wakame or other dried seaweed
5-6 cups water or vegetable broth
2 tbsp. tamari or shoyu (or more to taste)
a few dashes of cayennne, to taste
2-3 scallions, thinly sliced (optional)
3 tbsp. miso (or more to taste)
1. In a large soup pot, saute onion in oil over medium-high heat. Once translucent (about 8 minutes), add garlic, ginger and carrots and cook for another 6 minutes.
2. Add tofu and shiitakes, and cook for another 5 minutes, stirring regularly to avoid sticking.
3. Toss in kale, boy choy or snow peas and wakame. Pour in water, tamari and cayenne. Simmer for about 10 minutes. Throw in the scallions.
4. Scoop a bit of the liquid out into a mug and mix it with the miso. Turn the heat off under the soup and pour in the miso. Remove wakame before serving. Serve hot.
Enjoy and be well!