Pretty routine Wednesday
Got up and rushed off to spend the day with little people. I was five minutes late. I am
always
five minutes late. Spent part of the afternoon collating this recent printing of zines while wearing a 3 1/2-month old on my front. She was surprisingly silent and alert as we walked around and around the room with piles of paper on the counters and I was careful not give either of us a papercut. Fried up some marinated tempeh and shiitake mushrooms, steamed some black kale and mixed up a dressing to go with it (1/4 cup tahini, 1/4 cup lemon juice, 1 tbsp. shoyu or tamari, 1 tbsp. maple syrup, a few shakes of cayenne and a bit of grated ginger root). The oven's busted so baking wasn't an option.
Stitch n' Bitch was nothing out of the ordinary - pleasantly entertaining. I am always impressed with myself for getting outta the house on a Wednesday night.
The Ericat Hat's coming along (I make no apologies for my slow knitting)...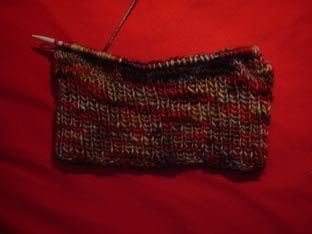 (I am so enjoying these colours!)
The subway ride home featured this rather muscular man wearing a real mangey-looking Santa hat doing push-ups on the floor, making odd noises and then standing up and projecting this monologue to the entire car of the train. I wondered what was going on for him that he felt comfortable impossing into the other riders' space (I'm not just talking physical space here) in such a blatant way.
Oh, so the ever-charming-engaging-and-entertaining
Arcade Fire
were on
Conan O'Brien
last night.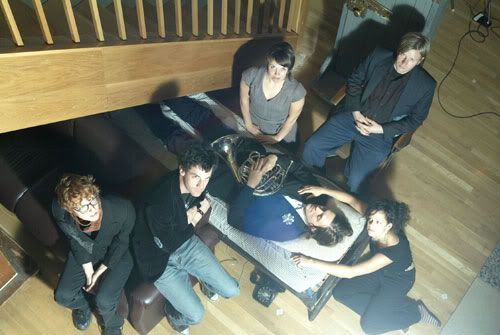 I was about to say "my friends
the Arcade Fire
" but that would be an embarassing lie. I could safely say "My friend Richard's in
the Arcade Fire
" (he's far left in the photo), but the rest of them I only know to say "Hi, how are you?".... And now that I've flustered myself with that explanation I'll say what I originally meant to and that was that I wanted to watch it, but alas (and thankfully most days) I don't have a TV. I considered walking up to Bloor St. in my pyjamas and big winter boots and going to one of those all-nite bars where those old European men sit 'round the clock and asking them to turn the channel on their omnipresent TV to NBC, but I just couldn't bring myself to do it at 1 am. Lucky for me, Kim had called her dad and asked him to tape it for me and he did. Watched it this evening (Conan O'Brien strikes me as a bit of a wanker) and was reminded of their cuteness (Richard and Will often wear motorbike helmets and hit eachother on the head with drum sticks), and detected some nervousness, which surprised me a bit as they are such rock stars now. (Not that I'm not
entirely
sympathetic to stage fright - I've had a wicked case of it ever since I became a Music Theatre major in high school and am always impressed when anyone can get up infront of anyone and do anything).