Tag! I'm it.
Yesterday was quite the musical day, as I biked down to Soundscapes to pick up tickets for
the Cons
show on Friday night
and then
Crystal
tagged me for this q&a that's been making the round of blogs. (Who comes up with these things anyway?!) I'm a little worried about who to pass it off to, but I'm also pleased in all honesty to talk about music - I do it anyway. Let the name-dropping begin!
1. Total amount of music files on your computer:
None. Computery and internety stuff for the most part is so confusing to me that I haven't taken more than two seconds to consider figuring out music files. (And I'm also detered by the experience with
Kazaa
that completely fucked-up my co-op's computer in Peterborough.) The only time music is emitted from my computer is when I log on to a website that plays it automatically (the
Urinetown
site almost gave me a heart attack once!), or if I'm watching a DVD.
2. The last CD you bought was:

Oh, think think think... I usually buy CDs at shows so that should help me remember... Was it
Gentleman Reg
's latest? No, it musta been
Lal
's
warm belly high power
, though a large percentage of CDs I've purchased in the past year have been from
Three Gut Records
. (As my friend
Andrea
says, "Support Canadian culture and we'll all have stronger bones and teeth.")
3. What is the song that you last listened to before reading this:
Oh, embarrassing!!! "Be with You" from
Beyonce
's
Dangerously in Love
. (What does she mean when she says
naughty girl
...?)
4. What are your five favorite songs and why do they mean so much to you:
Of all time? There's no way I can come up with that on the spot. How 'bout
these days
? That'd be: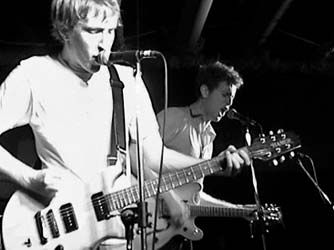 "Scoundrel Babes" from
Shine a Light
by
the Constantines
. It's great for rockin' out.
"For the Widows in Paradise; For the Fatherless in Ypsilanti" from
Michigan
by Sufjan Stevens. Oh, I just told you why last week (see
here
).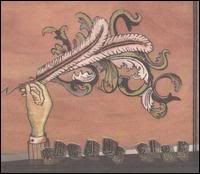 Neighborhood #1
,
#2
,
#3
or
Haiti
from
Funeral
by
the Arcade Fire
. They are so fuckin' fun and smart.
"White Cloud" from
Corners
by
Lal
. The beats and melody are great (I am so bad at describing music).
"kid don't go big song" from
Clear as day, the darkest tools
by
the Sea Snakes
. It's got a super-sounding chorus.
5. What 3 people will you pass this baton on to and why?
Paul at
Big Cedar Co-op
because he just started the blog there, and I wanna know what he's listening to;
Allison from
Domestically Challenged
because our blogs are so similarly named, and...
Birdsong
, who just wrote me about receiving the knit zine yesterday.
Gawd, that took so long to write with all those links! Are any of you listening to any of these bands? They're certainly worth checkin' out - especially if you're in Toronto, as this is such a super city for music. You may have to put down the needles for a night, though I'm not the only one who's been seen knitting at rock shows recently
(Sophie?!!)
.