Green day
As I finished writing the title just now I remembered the band of the same name. I'm not talking about the band. I'm referring to waking up in my green room with the green cupboards (I have no closet) and the green plants and picking up my chartreuse (that's a shade of green I learned only yesterday) yarn to knit some more on this green sweater.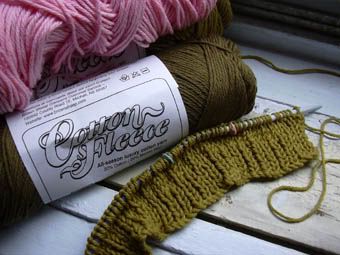 Yep, I am starting Laura's
Top Down Cardi
, a pattern that's going to be featured in the next issue of the knitzine. I tried the original on already at SnB the other week so there's no
Michelin man fear
with this project. One of my big draws to this project was the promise of very minimal finishing (body's one piece, sleeves are knit on circs). Not sure what I'll add to fasten it though - buttons? zipper? something else?
I'm knitting it in
Brown Sheep Cotton Fleece
. The colour's Willow Leaf, with some Olivette and maybe even a bit of Coral Sunset. Does pink in the mix sound like a bad idea to you? I often feel this pressure with creative things to make 'em a little less ordinary because if I wanted conventional, I should just buy something instead of making it myself.) I've been big on reds (and sometimes pinks) for a long while now, but I seems that I am broadening my colour pallet. I credit my green love, at least in part, to Michelle who seems to go for green anything everytime there's an option.
If you go to Laura's
current posts
you'll see that she's actually knitting a second one in Noro right now, so it's like we're having our own little unproclaimed knitalong! (I have yet to understand the inspiration behind knitalongs - if there were a whole bunch of other knitters out in the world knitting the same project as me and I could see how much faster and competently they were proceeding, I expect my rather competitive nature would get really frustrated. If anyone can shed a more positive light on knitalongs, by all means lemme know.)
I am hesitant to spend too much time knitting in bed this morning as it is so beautiful-looking out, so I think I'll get ready for a bike ride. My bike, sadly, is not green but yellow, with rust accents.
Afternoon addition:
If you would like to order a zine, please contact me directly after carefully reading the instructions. Both my e-mail and the instructions are in the sidebar. There's sumpin' screwy going on with my Haloscan account I think, because if you leave a comment I can't access your e-mail, just your "homepage" if you left one.