Checkin'-off-the-list day
So the herringbone stitch scarf is done: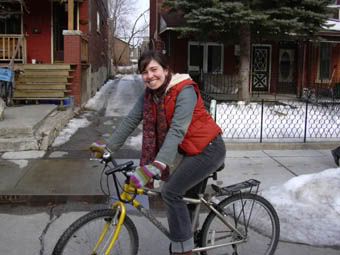 (I got Kim to come outside and take this pic - she'd already taken a bunch before she understood that the whole point was to get the scarf in the picture. I don't really like having my picture taken which possibly explains why I am smiling with clenched teeth at this point.)
It matches my down vest, no?
Let's recall its close-up from a week-or-so ago:
The details:
The
My So Called Scarf pattern
(her colours are far more springy), knit on 6.5mm needles in 2 skeins of Manos del Uruguay #111.
Width: about 5"; length: about 80".
Start to finish: March 4-19, 2005.
Manos being Manos, the second skein of wool is noticeably brighter in colour and thicker than the first which super frustrated me for a few days before I could apply some Buddhist principles of acceptance and carry on with the knitting.
I am pleased to think that this'll be one of the last warm and woolly projects I'll knit this season.
Laura
pointed out to me the other day as I was rhyming off my list of 13 projects that I've got on needles or plan to start shortly, that at this time of year it may not be appropriate to focus one's energy on wintery things.
Whew!
That was in no way obvious to me, but I can now knock four things off my list and make it a more manageable nine.
Other things I'm glad I've done so far today:
*spent a few hours with my favourite five month-old
*washed my bed sheets
*baked lemon-cornmeal biscotti (They're quite good, I'll have to give you the recipe sometime.)
*made a phone call I've been putting off for a number of weeks
*had my third standard driving "lesson" with Michael (A lesson is basically me driving around the empty part of the Rona or Home Depot parking lot and trying to negotiate a smooth balance of clutch and gas when starting the car.)
*biked down (gee, it feels nice to be on a bike again, even if my chain's all rusty) to Soundscapes to get tickets for the
Constantines
/
Weakerthans
all-ages show that I'm taking my 14 year-old brother to and for
The Organ
/
Stars
show at the Phoenix (uhg) mid-April.
*dropped off patterns to my aunt for a bag and some t-shirts she's gonna help me sew on Tuesday.
And I think I'm about to tidy up this disasterous space I inhabit, so after that I expect I'll really feel accomplished. Sometimes little things feel big, you know?