Good Morning, Muffins.
The extra bit of daylight that we're getting as we head into spring has not gone unappreciated by me. It makes me want to get up earlier and appreciate the day. And with this little extra time in the morning, there's another reason to make muffins.
Baking muffins isn't such a procedure, really. In a mere 30 minutes from the time you start grabbing ingredients from your kitchen shelves you could be pulling fresh, warm, aromatic muffins from your oven. (Okay, you'll need to give yourself sometime for clean up, too.) Try these: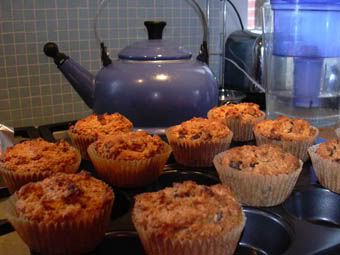 Apple Oat Bran Muffins
These babies have no refined sugar and are also free of wheat, eggs, and even dairy if you like. Their flavour is so great that they're undoubtably my favourite muffins.
1 medium-large apple, peeled and finely chopped
1 cup chopped pitted prunes (raisins or dried unsulphered apricots could be okay in a pinch)
2 cups oat bran
1 tbsp. baking powder
1 tsp. cinnamon
1/2 tsp. sea salt
1/2 cup plain organic (soy) yogurt
1/2 cup maple syrup
1/4 cup apple sauce
1/4 cup canola or sunflower oil
2 tsp. freshly grated organic orange peel (lemon's okay, too)
Preheat oven to 400oF. Line a muffin tray with unbleached paper muffin cups.
Prep apples and prunes and set 'em aside so they're ready for you when you need 'em.
In a large bowl, combine oat bran, baking powder, cinnamon and salt.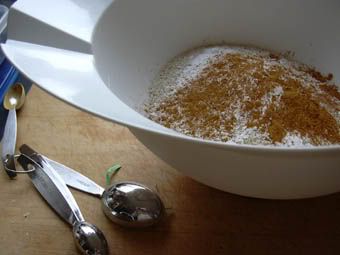 Add all remaining ingredients and mix
just
until all the oat bran is absorbed. Stir in the apples and prunes. Portion batter even into the muffin cups - you can fill them almost to the top as the muffins don't rise a whole lot when they bake (don't worry you're not making hockey pucks though).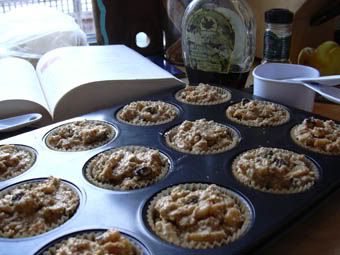 Bake muffins for about 20 minutes, until golden brown on top and a skewer inserted into the middle of a muffin comes out clean. Eat warm, or allow to cool completely on a rack before storing.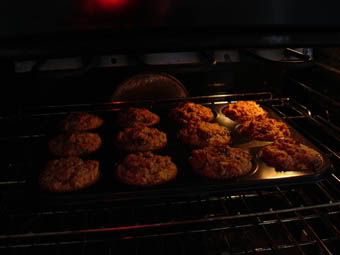 -adapted from
Sundays at Moosewood Restaurant
(- one of my favourite cookbooks!)
Why didn't I think of including step-by-step photos with recipes before? It's so much more fun!