Neapolitan
I was inspired two Sundaes ago when these two ladies came into
Lettuce Knit
and one of them was wearing this felted
Sophie bag
that the other one had made. It looked like Neapolitan ice cream - chocolate on the bottom, vanilla in the middle, strawberry on top and for the straps. I thought back to raiding my high school boyfriend's parent's freezer with his best friend Page, and me eating all the chocolate and Page eating all the strawberry and leaving a wall of vanilla in the middle for my boyfriend's cranky mom to find later... but I digress. I asked about the bag. The one who'd made it said she used Lamb's Pride Bulky in Roasted Coffee, Aran and Victorian Pink. Being the kind of grrl who's easily steered in the direction of new knitting projects, I immediately set my mind to making my own version of the bag.
So here's my bag (and my first real felted project):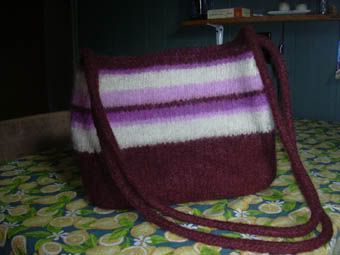 Start to finish: March 20-24, 2005.
Here are my alterations to the pattern:
I knit it in Lamb's Pride Bulky in lieu of Cascade 220, and on 9mms in lieu of 6.5s. It took the better part of 2 skeins of Roasted Coffee, and then wee bits of Aran, Victorian Pink and Orchid Thistle.
I only decreased 4 times instead of 5, on rows 10, 22, 34 and 46. I bound off a few rows early, too. The i-cord handles are both from 4 sts in lieu of 3, and I didn't twist 'em. (I ought to say here that
Laura
,
Aven
and Deny were quite helpful when I required advising with all this, so thank you ladies.)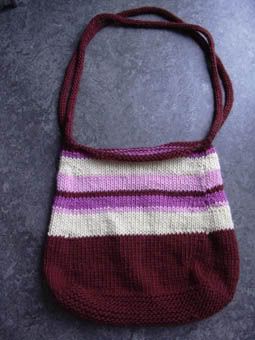 pre-felting:
width: 15 1/4" to 18"; height: 18"; straps: 40"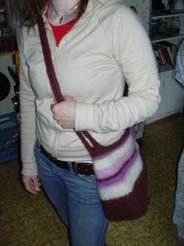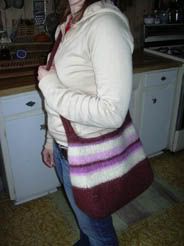 post-felting
(and smushed out the way the the pref-felted one was, to get an accurate comparison):
width: 14" to 16 1/4"; height: 13"; straps: 42" after wearing the bag around for a few days (oh dear...)
To felt I put it in a zippered pillowcase and ran it through my mum's ancient top loader on a hot/cold once with a pair of old (but clean) Converse All Stars. Seemingly nothing much happened. I ran it though again on a slightly longer cycle and added a pair of jeans that were too big on me (when else would you ever wash jeans on hot?!). It came out transformed. I am now realizing that the straps are a little too wimpy/stretchy to hold the amount of stuff that can fit in a bag this large, so it may go back into the wash once more. It's kinda too bad though, because I really wanted to be able to fit a binder in there! (Not that I even carry a binder with me that often... I can really afford to let go of the idea.)
If you have any suggestions from your own felting experience, I'd be interested to hear them. (And does anyone wanna write about felting for the zine??)