Project projections
I was holding off on posting because I hadn't had photos in quite a while and the batteries in my camera were dead and I hadn't read the instructions on my new rechargeable batteries yet.
I thought I'd follow in the bootsteps of other knitbloggers who show off their projects in the snow and step out into my front yard in my p.j.s to capture this herringbone scarf at the nearing-half-done point: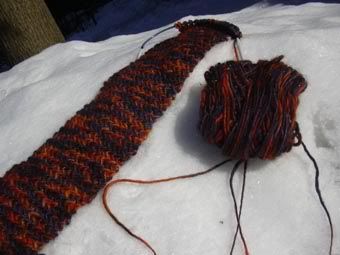 I'm not sure it you can tell at all from the pic how much yarn I have left on my first ball - part of me's wondering if the scarf won't be as long as I want it to be, but maybe I'm getting a little ahead of myself.
And here it is inside again by the window:
My camera is frustratingly not close-uppy enough for these kinds of things, but most of the time I'd rather spend my money on yarn than a nicer camera to take pics of WIPs, so there you have it. Notice that I am not showing you the beginning of the scarf - it's a little wonky and I just hoping that a it's nuthin' a li'l blocking can't fix.
On a non-scarf note, I have a bit of a romance going with the Ballet Wrap pictured on the cover of the lastest Interweave: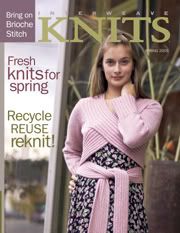 When I saw it in magazine I liked it okay. When I got to try it on for real at
Lettuce Knit
, my feelings deepened. I now have to "try it on" pretty much every time I go into the shop. People say "The colour looks great on you," and I beam as if I'd made it myself, and not the Lettuce Knit employees. I get a little on edge when other people try it on, and I resent having to take it off when I have to go home. All this suggests that I should make one myself, but here are my reservations:
First, the yarn is not cheap - I could
buy
a similar sweater for less money - but I don't want to substitute with another yarn. Second, I have a problem with starting projects and not finishing them and I'm thinking I should pull up my socks a bit, so to speak, before I invest in a project like this. And finally,
I am not a ballet dancer
. Throughout my childhood I took too many dance classes to even mention, and I was always the kid off to the side who couldn't always make it through a pirouette, didn't point my feet enough, and was always staring at everyone else for what to do next. Knitting something called a Ballet Wrap might make me feel like a bit of a poser.
(And, on a distantly related note, the friend I was always watching for the next step in my high school dance classes is on the cover of
NOW
this week. Ha! I can't say I'm surprised, mind you.)