A quick question
So I wanna make some wrist cuffs for a friend of mine who's coming to town next month. He's touring, with very little access to the internet, so we're safe to discuss this. I want them to be pretty great. They inherantly have to be great because I'm using
Koigu
(beware - some weird music'll play if you click on this link)
KPPPM
P436
, I think.
Pictured here is the intended yarn, one of the wrist cuffs I knit with Koigu last summer (two strands held together, few rows garter stitch at start and finish), and the
Clover
baby circs I knit wrist cuffs on (I'm tempted to say they're 5mm):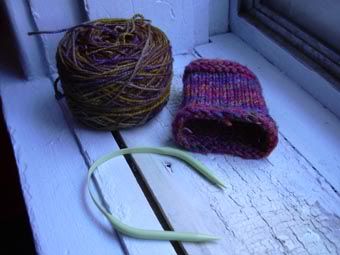 Any ideas on ways to fancify this next pair so that they'll look wholesome yet punk rock? I've been told intarsia (which I'm not even particularily familiar with) can't be done on circs. A different stitch pattern perhaps, or should I stick to what I know?