Sumpin' screwy
Truth be told, I am suffering. The February Blues have hit me, even though it's March, and they've hit me hard. It's hard for me to believe that spring even exists because I want it so bad. I have lost perspective and thus, everything I do just feels far more challenging than it should.
I came home last night determined that this was finally the time to find a winter coat that was actually warm. And somewhat attractive. I remembered trying on
this down coat
last fall and really liking it, but not being able to afford it. I called around to a handful of stores, one in Oakville even, but everyone had been sold out since Novemeber or had, like, one XL left. Until I got a hold of this one place in the Eaton Centre where the guy on the other end of the line told me that he was surprised but he had one medium left in burgundy. Thrilled, I ran out the door and leaped on the subway to get down there. Tried it on. I looked (and the ladies at SnB can confirm this as I modeled it for them later,) like a walking sleeping bag. If I'd looked like a walking mummy bag (downy but fitted), that'd be one thing, afterall Canada
is
a country known for cold, but I looked like one of those boxy (often plaid flannel lined) sleeping bags that kids get sent off to summer camp with.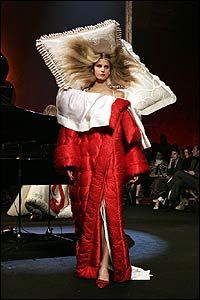 (Hillariously, Kim found this somewhat-relevant pic in the Toronto Star this morning.)
It seems the one I'd tried on a few months ago was a small. As I was desperate and lacking any skills in the decisive department, I bought it anyway. I thought maybe I could take it to some expert alterations place and have it fitted. What was I thinking? (It's going back to the store today.)
Like I said, everything's been feeling harder than it should, which is why, as SnB was winding down for the evening, Joyce came over to my end of the table to see if she could put an end to my whimpering. I was missing a stitch on the Fancy Scarf I'm finishing. I counted, Joyce counted.
Aven
got in on the discussion. We examined the scarf pattern carefully. We ripped back a number of rows, but still, the 42nd stitch was missing. Or, it coulda been the 28th stitch or someother stitch in there, but that
one
was still missing. The weird part is, every fourth row as I'm doing the k2tog's and the yo k's I have to have all 42 sts there, but we ripped past a few of those fancy rows and still - 41. As I could easily end up ripping my hair out over this, I am just going to plug on (and omit a decrease on the next round).