Thanks Mom.
So here's the ink job, about 31 hours post completion: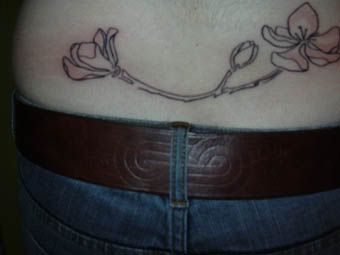 (You try taking a picture of your own back.)
I am pleased. I keep checking it out in the mirror to make sure it's still there.
Little things to mention: It took two hours to do. Reading while being tattooed may inspire sensations akin to motion sickness. Whoever told me that filling in hurts substantially more than the outline wasn't kidding. (The parts in the petals that look pink are gonna turn white - I'm cosidering adding more colour later but I wanna keep it simple for now.)
Leah
(the artist) was really great - and she's a knitter!
I think
Yarn-a-Go-Go
has a knitters-with-tattoos gallery, so perhaps I'll get in touch once this baby heals up a bit.
So how 'bout a recipe from my mum, who laid down the rule when I was a teenager that I could get anything I wanted pierced, but if I got a tattoo she'd cut off all financial ties. (I gave her advanced warning about this tattoo plan and she received the news surprisingly well.)
Mum's Apple Crumble
My mum always does this recipe by feel. It was a little tricky to get measurements out of her but I think this is close. I've never had a better fruit crumble.
Fruit bottom
4 largish apples, peeled
1/2 cup blackberries (optional)
1 tbsp. brown sugar
2 tbsp. flour
1/2 tsp. cinnamon
Crumble top
1/3 cup margarine or organic butter
2/3 cup rolled oats
1/2 cup flour
1/2 cup brown sugar
1 tsp. cinnamon
1/2 tsp. salt
1. Core and slice apples and mix with the sugar, flour, and cinnamon in a baking dish (about 9" in diameter). Gently mix in blackberries if you've got 'em.
2. In a separate bowl, rub the oats, flour, sugar, cinnamon, and salt into the marg or butter. It should be kind of clumpy.
3. Spread crumble over prepared fruit and bake at 350oF for 35-45 minutes.
4. Serve warm with non-dairy/organic whipped cream, ice cream or yogurt if you like.
* Peaches, nectarines or pears can substitute for apples depending on the season and your taste. Juicier fruits may require another tbsp. of flour mixed in.
I made this for Jamie this aft' and he was really into it. It's wonderfully warming in the cooler months and you can use local fruits!