Simply sweet
Kim got me hooked on these flaxseed cookies from a bakery in the Annex. Unwilling to shell out the better part of $4 every time I wanted to get my 4-pack fix, I set to the task of coming up with a similarly satisfying recipe. These cookies are free of wheat and refined sugar, with a density similar to shortbread. Makes 16-20 cookies.
Simple Flax Maple Cookies
2 cups spelt flour (you could try other flours too)
1/3 cup flax seeds
1 - 1 1/2 tsp. cinnamon
1/2 tsp. sea salt
1/2 cup maple syrup (never the fake stuff)
1/2 cup sunflower oil
Preheat oven to 350oF. In a large bowl, combine flour, flax seeds, cinnamon and salt. Pour in syrup and oil and mix just until all the flour's been absorbed.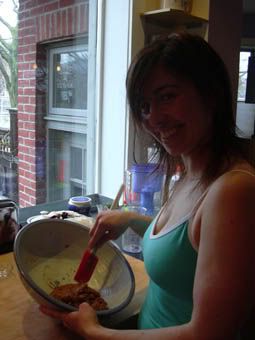 Allow the dough to sit for 5-10 minutes before rolling into walnut-sized balls (or slightly larger) and placing them on a lightly oiled cookie sheet.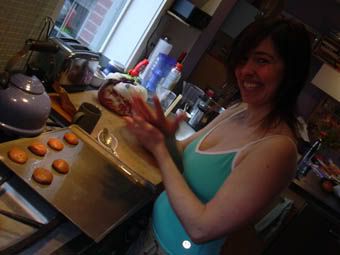 Press down on each ball gently with you index and middle finger - they'll flatten and you'll make a nice wavy impression in the cookie.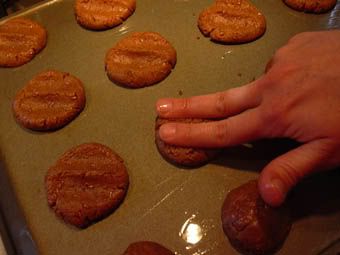 Slide in the oven and bake for 13 minutes. Allow to cool on a rack, or eat 'em warm with a tall glass of non-dairy milk.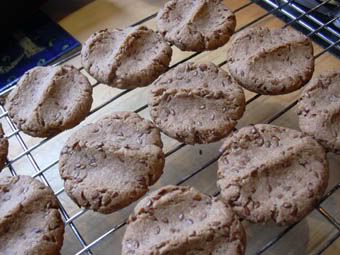 PS. Speaking of sweet, thank you all so much for your cardi comments. What a thrill to hear from you all!