Cardi cardi cardi
Hip hip! It's done! With ever so grateful thanks to Joyce (who sewed in my ends) and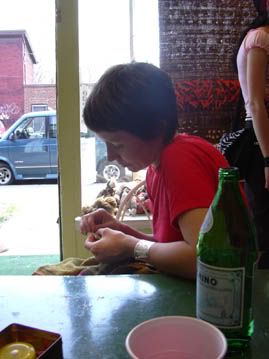 Megan (who put in my zipper) when I was ready to throw an impatient I-can't-stand-finishing temper tantrum...
I present to you my FIRST SUCCESSFUL SWEATER!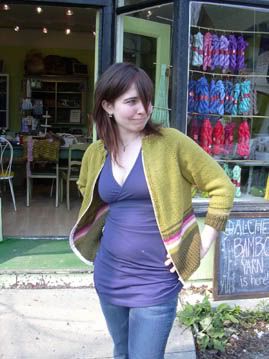 Minutes after completion outside Lettuce Knit (- and time for a hair cut it seems)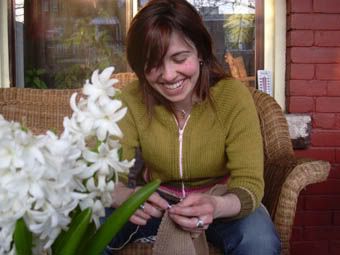 ... and later on on my porch as I'm racing to finish the shrug.
The deets:
Laura's
Top Down Cardi pattern
.
Start to Finish: March 31 to April 19 2005.
Knit on US 8s in
Brown Sheep Cotton Fleece
- 3 skeins Willow Leaf, 1 skein Olivette, and wee bits of Primrose, Tea Rose and Coral Sunset.
Pattern adaptations: I continued the ribbing down the front edges in lieu of doing garter stitch. Knit body to 21 inches (and there's more ribbing at the bottom than the suggested 2 inches). Picked up 4 sts under the arms in lieu of 5, decreased picked up sts to 2 on the first round; dec every 5 rounds twice, and then every 4 sts after that. Knit sleeves on my Clover baby circs as it was real tight on the suggested 16" circ (maybe you could try a 12" if you had one?). Added a pink zipper. It's a wonderfully adaptable pattern.
It feels great to be done. Admittedly, I think I'm more about results than process at this point with my knitting. I expect it'll get a lot of use.
The shrug's done too now (as a mattern of fact I'm wearing it at this very moment), but I'll save that for another day.