Finally!
First off, thanks so much everyone who commented about my recipes (two posts ago). It's exciting to think of you all in your kitchens with all your own little culinary quirks that I'm sure you have... I know I have a few.
Today I got an exciting package in the mail... No wait, lemme give you the story first: I saw these handmade journals at my favourite Peterborough bookstore,
Speak Volumes
, last December. I wanted one, I'd had one like it before, but they weren't cheap (from the States, so tricky exchange rate plus store mark-up) and I wasn't finished the journal I had going at the time so I decided I'd wait. Then I realized that I wasn't gonna be back in Peterborough for a while, so I asked my friend Tim to pick me one up when he went home for the holidays. He said he'd bring it back to me in early January. My old journal ran outta pages but I thought it was worth it to wait. But the new year came 'round and Tim never called. I left him, like, a dozen messages starting with "Hey let's meet up," and finally more like "Are you okay? Or could it be that you hate me?" but no contact and therefore no journal. Next time I went up to the 'patch, Speak Volumes was all sold out! I'd started the blog by then, which kinda took care of my writting urges enough to distract, but I finally decided to do what I shoulda done months ago, and order the book directly from the creators,
Ex Libris Anonymous
. And today, they arrived: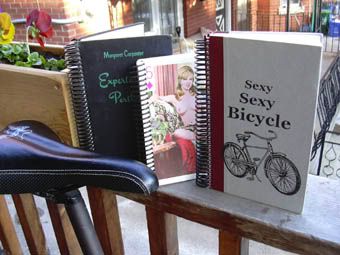 Cute, no? The
Sexy, Sexy Bicycle
one was of course the one I was lusting after. The nudie playing card one I convinced myself to get when I found out shipping to Canada was the same for one or two journals (although it wasn't the lady with kneeling amongst party decorations I'd requested... oh well). And the third one... I dunno, I didn't order it, but here it is! What a treat!
Here's why I'm so reved up 'bout these journals:
First, the esthetic. Second, the covers are recycled from old books (or playing cards in the case of the nudie journals) so there's an environmental compontent. And then, because they're made by this super-friendly artist couple who "believe in sustainable business practices."
I'm
all for responsible consumerism. So g'wan now and visit Jasmine and Jacob's
site
- they even have these new silk-screened journals that say
Knit & Destroy
.
See?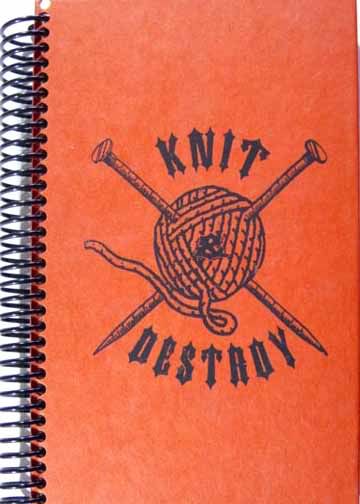 (Ironically, just this weekend I ran into Tim on Bloor Street and he was all like "Oh, I gotta get that journal to you sometime."
Grrr...
We're still friends.)