Pancakes in particular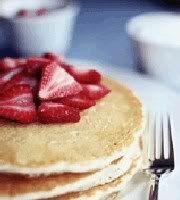 I suppose it's no secret now what my favourite meal of the day is.
(Oh and it may be worth mentioning for any of you who haven't been keeping track of the blog over the last couple months that I post recipes
every
Friday. Foodie Fridays. Here at Domestic Affair.)
Easy Banana Pancakes (or Waffles)
This recipe's a staple in my book. I use it all the time.
1 cup flour
2 tsp. baking powder
1/2 tsp. cinnamon
a pinch of sea salt
1 ripe banana (organic pref.), mashed
1 1/4 cups (non-dairy) milk
1 tbsp. sweetener (sugar, honey, maple syrup, molasses...)
oil for the frying pan
1. In a large bowl, combine the flour, baking powder, cinnamon and salt. Add the banana, milk and sweetener to the dry ingredients and stir just until all of the flour is absorbed.
2. Portion the batter out onto a lightly oiled skillet and cook until golden on both sides. (If the batter's too thick you can mix in more milk or water - a li'l bit at a time.)
If you're making waffles (in a waffle iron), add 1 tbsp. of oil and 1/2 cup more milk. Serves 2 to 3.
Corn Cakes
It's the blue cornmeal that inspires me every time. You can use yellow cornmeal if that's what you have on hand.
2/3 cup cornmeal
1 cup just-boiled water
1 1/3 cup flour
1-2 tbsp. sweetener (honey, molasses, maple syrup, sugar)
1 tbsp. baking powder
1 tsp. cinnamon
1/2 tsp. sea salt
replacer for one egg (try powdered 'egg replacer' + water, 'flax binder' or 1/4 cup applesauce)
3/4 cup (non-dairy) milk (and more if needed)
oil for the frying pan
1. Mix cornmeal and water in a bowl and set aside.
2. In a larger bowl, combine flour, sweetener, baking powder, cinnamon and salt. Add egg replacer, milk and cornmeal mixture and stir just until all the flour has been absorbed. Stir in more milk as needed to obtain desired batter consistency.
3. Put a frying pan on the stove at medium-high and drizzle in just enough oil to thinly coat the bottom of the pan. Portion the batter out onto the skillet and cook until golden on both sides. Serve hot, with molasses or maple syrup and fresh fruit. Serves 3 or 4, unless you're really hungry.
In addition, I want to give you a few points on pancakes (as found in
Ripe #3
):
The first pancake is almost always a flop. Maybe you put too much oil in the pan so it's greasy, too little oil in the pan so it sticks, the heat's too high or too low... Don't be discouraged - proceed with the rest of the batter, adjusting as needed.
The skillet should be fairly hot when you pour in the batter. You can test for this by dripping a teeny bit of water on the pan. If it sizzles, your pan is ready. For cooking pancakes, it's a fine balance to get just the right temperature. Too hot can burn the outside of your pancakes while the inside stays raw. Cooking them too low can really dry them out.
Each side of the pancake should only be down on the skillet once. Flipping them back and forth dries them out and makes them leathery.
To be on the safe side re-oil the pan between each round of pancakes. You don't need tonnes of oil.
If you're a bit of a fidgety cook I should mention this: don't press down on your pancakes. Let them do their thing in the pan. If you press on them it defeats the purpose of the baking powder and your cakes'll be thin and tough.
If you want to make crepes, thin out your batter. Add water or milk 2 tbsp.- 1/4 cup at a time until desired consistency is achieved.
To keep pancakes warm while your getting through all the batter, put a plate and a clean tea towel in the oven at a low temperature (say 175-200oF). As pancakes are cooked, stack them in the tea towel on the plate. (The tea towel covering should, again, keep them from drying out.
Hey recipe-reading lurkers (what a weird word, lurkers)! I like sharing recipes, but it's important to me that I hear back if you end up making one of them - what worked or didn't work, any substitutions you made - that's how I can improve them for my cookbook. Thanks!