Better than compost.
So I got myself a pretty amazing
Breville
juicer the other week.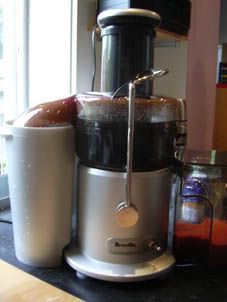 If you don't have a juicer, and you're not moving in with me and my juicer in the next few months, you may not be interested in reading on. Anyhow, I'd been wanting a nice juicer of my own ever since I'd started this ritual with my ex-partner of making this juice every morning I was at his house (obviously we weren't exes back then):
Immune Boost Juice
This juice is great if you feel something coming on or if you're in the middle of a sickness. You can also make it just 'cause it's a nutritiousway to start your day (the nutrients are best absorbedon an empty stomach).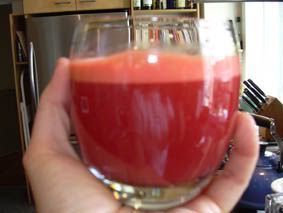 4 medium carrots
1 medium-large apple
1/3 of a fist-sized beet
1-inch piece ginger root
Rinse or scrub all ingredients. Don't peel them as you'll loose all the nutrients in the skin (you'll feel better about not peeling if your produce is organic). Chop into appropriate-sized piece for your juicer. You don't need to core the apple, but you should remove the seeds. Run everything though your juicer according to your juicer's directions. If you can handle a little bit of dilution, run about 1/4 cup of filtered water through the juicer at the end - more juice'lll come with it. Drink immediatley. Slow sipping allows for better absorbtion. Serves 1.
We felt a little weird about all the pulp that was going to waste.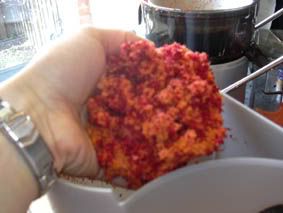 We saved some up in the freezer for a while and then made a batch of soup stock with it, though our particular pulp flavour combination lent itself to a limited number of soups. Now that I'm more of a baker I've come up with this (you could try using the pulp of other fruits and veg, just use your discretion):
Juicer Pulp Muffins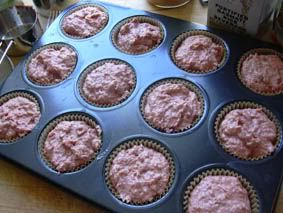 2 cups flour (I used organic light spelt)
1 tsp. baking soda
3/4 tsp. sea salt
1/2-1 tsp. nutmeg
1 cup lightly packed juicer pulp
1/2 cup juice or (non-dairy) organic milk
1/2 cup apple sauce
1/3 cup maple syrup
1/4 cup oil (canola, sunflower, safflower...)
1 tbsp. apple cider vinegar
Preheat oven to 375oF. In a large bowl, combine flour, baking soda, salt and nutmeg. Add juicer pulp, juice or milk, apple sauce, maple syrup and oil. Mix just until all the flour has been absorbed. (If you had beets and carrots in your pulp the batter may look a little like salmon mousse. Don't worry, the colour will change when baked.) Pour in cider vinegar and mix quickly, just until evenly distributed through batter. Sppon into a lightly oiled or paper-lined muffin tray. Sprinkle tops with a little bit of nutmeg and sugar (optional). Bake for bout 20 minutes. Test with a skewer for doneness. Makes a dozen muffins. (If you were gonna bake it as a loaf it may take around 45 minutes to bake at 350oF.)
Lemme know how it works out for you.
Especially
let me know if you have other juice recipes you love, or ideas for juicer pulp.