Dressin' up
After such a looong wait, if any of you are still interested here's the shrug: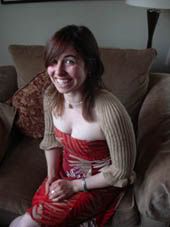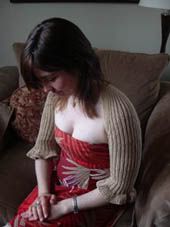 This is the dress I actually knit it to go with, though there was a time limit because I also wanted to wear it with that trench dress (pictured in a post below...) last week.
I can't say I'm thrilled with the way it wears - mostly because it's cotton though and therefore not too resilient. I checked out
the actual yarn
the pattern called for and it's like pure elastic! Go figure!
So here are the deets:
Start to finish: April 16-18, 2005.
Yarn and needles: called for
Paton's Katrina
(92% rayon) on 6.5mms, but
Megan
and Joyce were my mathematicians and gave me the go ahead to follow the pattern knitting it with DK-weight
Ecoknit organic cotton
on US 9s (
Denise
5.2mms).
Pattern: The Ribbed Shrug from the
Interweave
Staff Shrug project and you can get the pattern right
here
without even buying the magazine. It was a super-simple and quick knit, but I disagreed with some of the pattern instructions though. Everytime it said to start a row with a P1 I think it shoulda been a K1. Starting with a P1 seemed to throw off the alignment of the rib.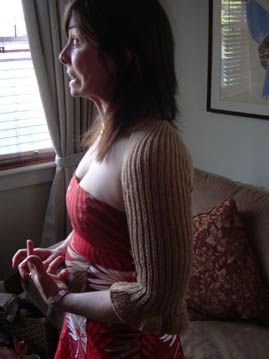 I'm still thrilled about the idea of shrugs and I may knit up a whole bunch more shrug-like garments over the next few months - I'm just starting on the Isis Wrap - though I feel completely lost in this lace pattern!