Mo' FOs!
By the way, these are the last of that spurt of finshed objects:
The armwarmers!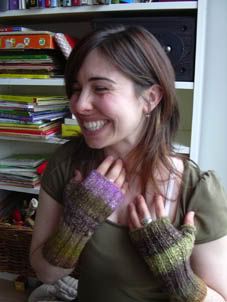 I'm not sure Michael understood the idea was to photograph my hands, and not me grinning at his toddler.
They're the Hurry Up Spring Armwarmers from
Stitch 'n Bitch Nation
, sans cable pattern, in Noro Silk Garden (1 skein).
Took about six months to knit! DPN projects are not for me it seems. And because they took so long, I don't even think I want to keep them. They'll make a fine gift.
Also the little one's spring poncho: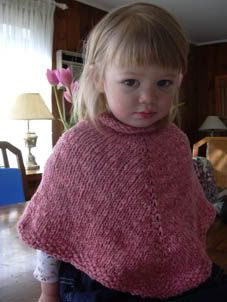 (This pic seemed appropriate to show off as one of her biggest conversation topics these days is "jae cut my hair!")
And again: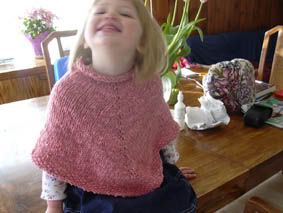 Araucania Cotton on 6.5mm needles. Less than 2 skeins. Measures about 12" from top to bottom. It fits her 7 month old sister just fine too - only differently.
I just CO 48 sts; PM; joined in round; K 5 rounds; next round placed another marker after 24 sts; then before the next marker kf&b, sl marker, kf&b; K to next marker - same thing; and then every other row until 1" before desired length; seed st for 5 rounds; BO. How's that for a casual pattern write-up?!
Ponchos in the round are just about my favourite thing to knit, even though I won't wear one myself.
The poncho got me thinking about a skirt though...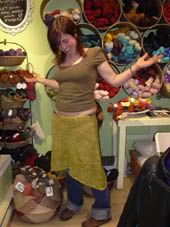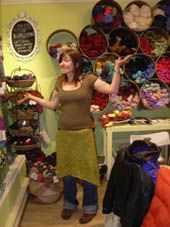 This is the Manos Cotton Stria poncho that's on display at
Lettuce Knit
, but it seems to be versatile. Can you visualize a summer skirt? Any particular yarn suggestions?