Quick update
In the interest of keeping you all abreast of my current knitting adventures, here's Elias, showing off my Isis Wrap thus far: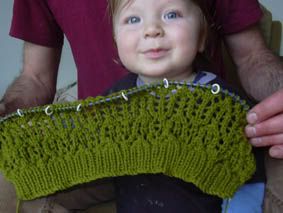 (Handing incomplete lace knitting to a 1 1/3 year old to model is a little nerve-wracking, which is why I got Michael's assistance. Is anyone else making this, by the way? How are you finding it? What yarn are you using?)
And my first continental knitting project: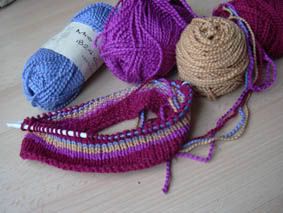 (It's a stripped version of The Umbilical Cord Hat from
Stitch n' Bitch
in Mission Falls cotton.)
They're both coming along real slow as I've been worrying lately about my literary skills slipping and I've picked up some books to read in my spare time. I've just finished
Atlas of the Human Heart
by hip mama
Ariel Gore
.