Southern heat
I made a delicious southern-inspired dinner the other night. The crowd went hog wild for it.
Black-eyed Peas
I adapted this from a recipe by Deborah Madison. Black-eyed peas are great because you can cook them from dry pretty quick (relatively speaking). The chipotle flavour really makes the dish though.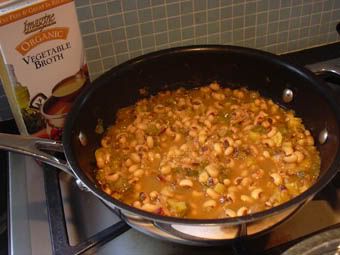 1 cup dried black-eyed peas
1 medium onion, diced
1 small - medium bell pepper, diced
1 rib celery, diced
3-4 cloves garlic, minced
2 tbsp. olive oil
2 bay leaves
1-2 chipotle peppers or 1/2 - 1 tsp. chipotle powder
1/4 tsp. allspice
3 cups vegetable stock or water
1 tsp. sea salt
Soak black-eyed peas overnight in cold water or in just-boiled water for one hour. In a 2 quart pot, saute onion, bell pepper, celery, and garlic in oil until onions are soften (about 10 minutes), stirring occasionally to prevent sticking. Add bayleaves, chipotle (if you're using whole peppers you can put them in whole and have the option of removing it/them later, or chop 'em up into wee pieces), and allspice. Drain soaking water off the peas and add them, along with fresh water or veg stock. Bring to a boil and then lower heat and simmer, partially covered, for 40 minutes. Add salt and continue to cook unitl peas are soft (about 10-15 minutes more).
Maple Mashed Sweet Potatoes
Put on a large pot of cold water to boil. Peel a bunch of sweet potatoes, rinse 'em and chop 'em up into small cubes. Once the water's boiled, add the potatoes and shake in a bit of sea salt. Once potatoes are tender, drain off the water (reserve some of it). Mash 'em real good, adding some of the reserved water and organic (non-dairy milk) until desired consistency is acheived. Season with sea salt, fresh ground black pepper, oil/organic butter/gmo-free margarine, maple syrup, and even roasted garlic if you like, to taste.
The little one helped me mash: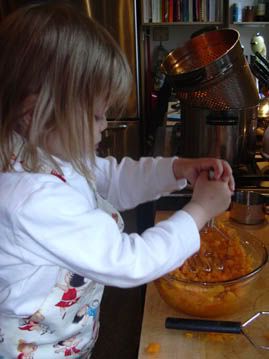 So grown up for a 2 1/4 year-old!
Serve these two dishes alongside steamed collards (or kale) and a cooked grain (brown rice, quinoa, millet, barley, whatever...). Bake a deep dish fruit pie for dessert.