Missing out
Have I told you about my regular out-of-town excursions?
Here's where I've neen going two and a half days a week for the past two months: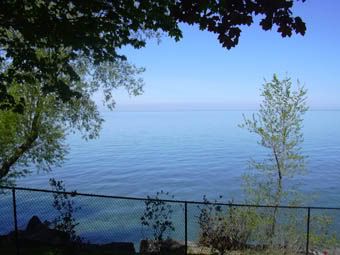 Can you see it? The
CN Tower
in the distance, across the lake? (I could see it when I took the picture.) If you know your Ontario geography, it's likely you'd be guessing that I'm in
Niagara-On-The-Lake
- and you'd be right.
Sigh... I suppose that I should look at it as an adventure - getting to hop in a little car and get out of the Big Smoke for a few days, but I mostly just see it as work. Sure, NOTL is quaint (how can so many B&Bs exsist in one place?), but there are so many oblivious tourists that are almost impossible to pass with a stroller when we're rolling down Queen Street, and not enough organic produce. Though I may be getting a good tan putting in all those hours at the park, I feel disconnected from my Toronto goings-ons.
It means that I miss Stitch n' Bitch.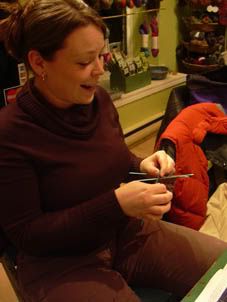 (I think this was the last time I got to attend the Wednesday night festivities - I am humouring Jill a little here - she doesn't have her own blog, but she reads mine, so...)
And when I am in town, I'm slaving over the knit zine, or obsessively apartment hunting (know of anything in Kensington or the Annex for September?), so I never ever see this anymore:
For all I know, Penelope could be working the till by now.
There's no real climax to this post, I just thought you might sympathize with me in my moment of whininess.