Two that are tasty
This making-guest-appearances-on-my-own-blog thing is getting a little embarassing. When you all see the knit zine, though, I hope you'll also think it was worth it.
Anyhow it's Friday, which makes it food day, here at Domestic Affair. Try these - I think you'll be pleased with the flavours.
Black Bean Soup
Make the effort to get your hands on chipotle peppers. It's worth it.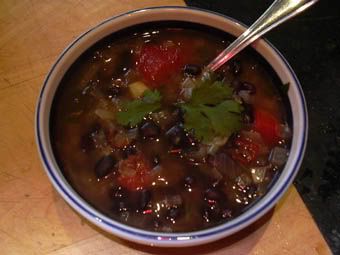 2 tbsp. oil
1 tsp. ground cumin
1 tsp. ground coriander
2 medium or 1 large onion, diced
6 cloves garlic, minced or grated
5 cups cooked/canned black beans
4 cups water
1 cup canned/fresh diced tomatoes (with juices)
1 tbsp. minced chipotle pepper
2 tsp. sea salt
1/3 cup minced fresh cilantro
In a large soup, heat oil over medium heat. Throw in cumin and coriander and stir just until saturated with oil. Add in onions and saute until translucent (about 8 minutes). Stir in garlic. Add beans, water, tomatoes, chipotle and salt. Bring to a boil, then reduce heat and simmer for 5 minutes. Stir in cilantro and turn off heat. Serve, with a sprig of cilantro as garnish. (It tastes best on the second day, in my humble opinion.)
Lime Creem Pie
My friend Mike said I should call this Guacamole Pie (because of the avocado-lime combo) but I said I didn't think that would sound appetizing enough for people. This recipe has been adapted from my cookzine
Ripe #3
, and will be reprinted in the next
Take Back thte Knit
.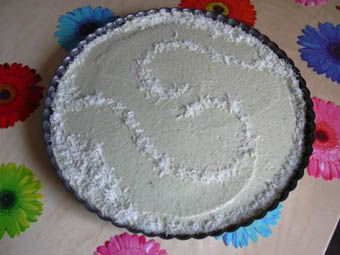 Crust:
1 1/2 cups graham cracker crumbs
2 tbsp. sugar
1 tsp. grated ginger root, or 1/2 tsp. ground ginger
3 tbsp. oil or marg
2 tbsp. water
1/3 cup shredded unsweetened coconut
Filling:
2 12-oz boxes firm or extra firm silken tofu
1 cup blended avocado (about 2, they needn't be all that ripe)
1 tbsp. lime zest (finely grated lime peel)
1/3 cup fresh lime juice (about 2-3 limes)
2 tsp. cornstarch
3/4 cup sugar
1. Preheat oven to 350o F. Combine graham crumbs, sugar, ginger, oil and water. Press into the bottom and sides of a 9-inch pie pan (or equivalent). Slide into the oven and knit for 10 minutes while it bakes. Remove from oven and set aside. Knit until cool.
2. Combine lime juice and cornstarch, making sure that there are no starchy lumps. Pour mixture into a small saucepan and cook over medium-low heat, whisking constantly, for a few minutes until thickened. Set aside to cool.
3. Remove tofu from packaging and wrap in a clean dish cloth (or paper towel). Squeeze gently but firmly to wick away as much moisture as possible.
4.In a blender or food processor, whirl tofu, avocado, lime juice mixture, lime zest, and sugar until smooth.
5. Sprinkle coconut on top of the crust. Pour in filling, and sprinkle with extra coconut if desired. Chill for at least an hour. Knit while you wait - let someone else do the clean up, Makes about 8 servings.
PS. Does anyone know of any food blog rings or veg blog rings? I wanna get in on 'em.
PPS. I think I forgot to tell you - I recently added a Chai Icing recipe to the
Chocolate Chai Cake post
from a few months ago. It's certainly worth a try!