Done.
* As of July 5, please note the change in venue for the launch party below.
On Tuesday evening I threw my hands up in the air and announced I was done. All the various struggles (difficult communications with advertisers and contributors, facing graphic design on my own as someone who knew nothing about it or the computer programme I was working with, etc.) had been dealt with as best they could, and I could finally say to my dad, "Okay, call the printer. It's time." It was kinda like being pregnant and turning to your partner and telling them to give the midwife a ring cause you're pretty sure you're in labour. (Imagine if you were giving birth two months late though?)
And so here lies my final editting copy: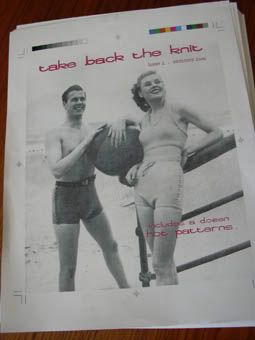 And now - we celebrate!
I've never done this before, but with this issue I'm gonna have a
Zine Launch Party
. If you live in Toronto, quick go grab your daybook and mark it down. If you don't live in Toronto... haven't you been looking for and excuse to come visit?
The date is
Wednesday July 13
(and I have been assured that the zine'll be in my hot little hands by then), and the time'll be
8 pm
. If you're a regular at the Lettuce Knit Stitch n' Bitch all you have to do is relocate a block or two away - it's going to take place at
The Embassy
(223 Augusta, north of Dundas between Spadina and Bathurst). It's not gonna be a big deal, just drinks (they've got great drinks), knitting, and of course zine admiring. If you contributed this'd be a good time to come pick up the copy that's rightfully yours, and if you didn't contribute this is a chance to buy one (or four - to send to your knitty friends!). And as an added bonus it turns out that there'll be live music at The Embassy on that particular night. Wheee!
But what about me
- you ask -
the grrrl (or guy) who can't make it to the launch?
Don't you worry your pretty little self, I'll be posting mail order details soon enough (
please
don't e-mail me yet).
Oh, and Happy Canada Day to you if you're one of those patriotic types. I'm going to see
Feist
and
Apostle of Hustle
down at
Harbourfront
.
And Happy Wedding to my Peterborough pals Nick and Camille who're doin' the ol' "I Do"s at
Ecology Park
tomorrow. I'm making
pasta salad
for 40.