Preemptive scarf for cooler weather
Unbiased scarf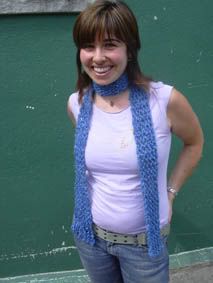 I came up with this pattern by accident. I was at Stitch n' Bitch last Wednesday night, reading some pattern for a biased scarf over Jane's shoulder. I got home and couldn't quite remember how the pattern went. I worked the scarf as follows, looking for a bias that never appeared - but I was pleased with the result anyway! The gorgeous banana silk yarn was an exciting gift from Robyn, who wrote the article on vegan knitting for
Take Back the Knit #2
. Thanks Robyn!
Materials:
1 skein
Town & Country Llamas Banana Silk yarn
; 200 g, 140 yards (I used about 3/4 of the skein)
size US11 needles
darning needle
CO 11 sts.
All rows are knit the same:
K1, * yo k2tog * until the end of the row.
Knit for 60 - 65" (I like skinny scarves to wrap around my neck once, with the ends hanging around my hips).
BO somewhat loosely.
Weave in ends.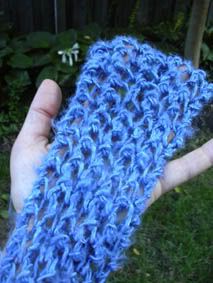 PS. Keep those contest submissions coming in! (See Sundae's post.)