Ariba ariba!
Before we start talking about food I'm gonna remind you:
ONE WEEK TILL SUBMISSIONS FOR THE NEXT ISSUE OF THE KNIT ZINE ARE DUE.
If you need guidance, go
here
.
Okay, now that that's been mentioned, let's make a Mexican-inspired dinner!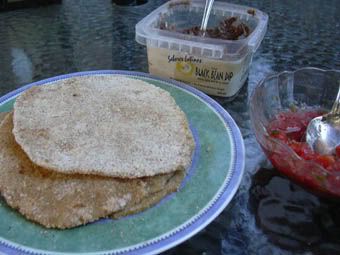 (Not so intelligently, I waited till almost the end of dinner to snap this photo.)(We had some store-bought bean thing the other night because I was in a rush, but here's what you should make:)
Pinto's Refried Beans
My former Peterborough housemate Derek Pinto made refried beans a coupl'a times while we lived together and though he jotted down the recipe for me, I lost it. I figure watching him make them gave me enough of an idea of what he did, so I'm winging it myself.
1-2 tbsp. oil
1 medium onion, minced
1 tsp. chili powder
1 tsp. cumin
1/2 tsp. coriander
3-4 cloves garlic, minced
a few dashes cayenne
4 cups cooked pinto beans
1/2 cup (or more) water, bean water or vegetable stock
1 tsp. sea salt
the juice of 1/2 a lime
In a large pot, heat oil over medium and add the onion, chili powder, cumin and coriander. Saute, stirring every so often to prevent sticking, for about five minutes before adding the garlic and cayenne. Continue to saute until onions are soft and translucent. Toss in the beans, water and salt. Heat for a few minutes and then grab a masher (you could use a hand blender is you wanted an even smoother consistency) and mash it all until every bean has been smooshed. Stir in the lime juice and heat for a few minutes more.
Fresh Salsa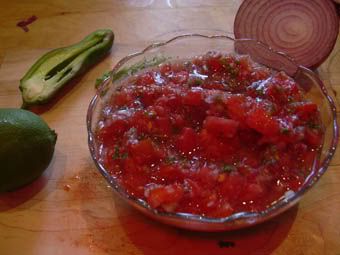 1 small jalapeno chile; stemmed, seeded and minced (about 1 tbsp.)
1/2 small red onion, minced
1 large or 2 small garlic cloves, grated or pressed
1/4 cup minced fresh cilantro
1/2 tsp. sea salt
1 tbsp. lime juice
4 small ripe organic/local tomatoes (about 1 1/2 lbs.), small dice
Combine all ingredients in a bowl.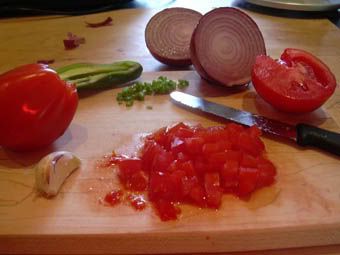 Best to allow flavours to meld for an hour or two before serving.
Tortillas
I stupidly didn't follow the recipe and struggled with dough that was far too moist, but you should see how the recipe goes when you just stick to it. (adapted from Kitchen Witch: Vegan Magic zine by Kara Maia)
1 cup cornmeal
1 1/2 cups water
3 tbsp. oil
1 1/4 cups flour (spelt, whole wheat, etc.)
1 tsp. sea salt
In a small saucepan, bring water to a boil. Stir in cornmeal quickly. Turn heat to low, stir in oil, and cover. Cook for five minutes.
Scrape cornmeal mixture into a bowl and allow to cool for about 10 minutes. Mix in flour and sea salt. The idea is to form a dough that is soft, but not sticky - add in small amounts of water or flour as needed to get the right consistency.
Divide evenly into 12 pieces. Roll each piece into a ball and then flatten between your palms or on a floured board. Roll with a rolling pin into 6-7 inch circles. Keep turning dough to keep it round and re-sprinkle board and pin with more flour (or fine cornmeal) as needed.
Cook on each side on hot ungreased griddle until flecked with dark spots. May be made a day or two in advance - heat for a few seconds to make soft and pliable again.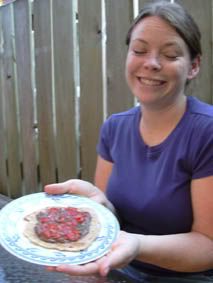 Now top the tortillas with some refried beans, salsa, fresh minced cilantro and chopped bell peppers, and some organic cheese (if you eat it) and enjoy!