Big Zuch
One thing I learned while working on organic farms is that squash have a knack of hidding on you. Zucchinis in particular. You can visit the squash patch regularly, peering through the leaves to the ground, and not notice anything worth harvesting for a while and then - tada! - all of a sudden these gigantic zucchinis have appeared.
Case in point: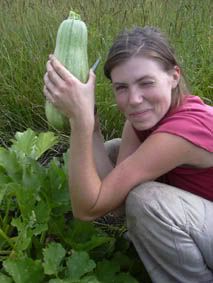 Now that I'm off sugar, I thought I'd revisit an old recipe for raisin-sweetened zucchini bread that I used a bunch when I lived on
Stowel Lake Farm
on Salt Spring Island (the same place I learned to knit, I might add). Thought I'd try it with dates this time in lieu of raisins as dates are a less refined sugar source, and conventional (non-organic) farmers spray the hell out of raisins crops (we're talking nasty pesticides here).
Zucchini Date Muffins
1 1/2 cups chopped and pitted dates
1 cup just-boiled water
2 cups spelt flour
2 tsp. baking powder
2 tsp. baking soda
2 tsp. cinnamon
1 tsp. nutmeg
1/2 tsp. ginger
1/2 tsp. sea salt
2 cups grated zucchini
1/2 cup flax seeds, sunflower seeds or chopped walnuts
1/2 cup oil
1 tbsp. apple cider vinegar
1. Place dates in a non-plastic bowl and pour in the just-boiled water. Cover (you could use a pot lid or a plate), and allow to soak. Preheat oven to 350oF.
2. Sift the flour, baking powder and soda, spices and salt into a large bowl. Whisk to combine.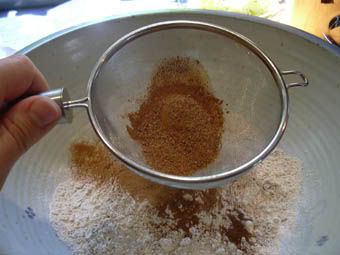 3. Stir in the zucchini and flaxseeds until zucchini is well coated in flour.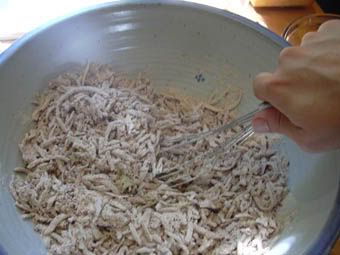 4. Uncover dates and mash with a fork until relatively smooth (you just don't want any big chunks).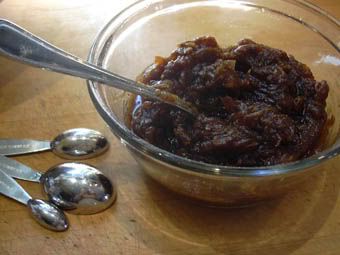 5. Add the date mash and oil. Stir. Add the vinegar, and stir just until evenly distributed.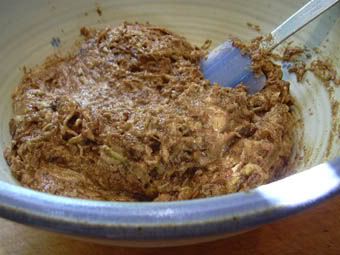 6. Spoon out into a paper-lined muffin tray. Slide into the oven and bake for about 20 minutes until a skewer inserted into the centre of a muffin comes out clean.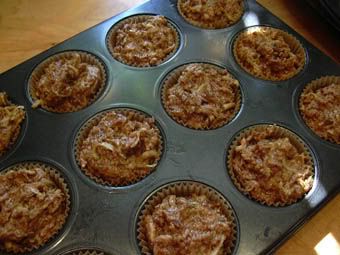 Makes about 18 muffins. (You could also make two loaves of zucchini bread, but the baking time would need to be adjusted to something around 45 minutes - I'm just guessing at a time.)