Bliss-full frustrations and blissful gifts
Saturday night. I had no intention of heading out to
Big Primpin'
(this monthly queer hip-hop dance party in Parkdale) until 11pm, so I sat and watched a
Coldplay
concert on
Much Music
for a bit, and knit. Despite their mainstream popularity, I gotta say I actually find the band quite likeable. I did find however that I needed to try on the ribbed stole during the commercials to keep myself motivated: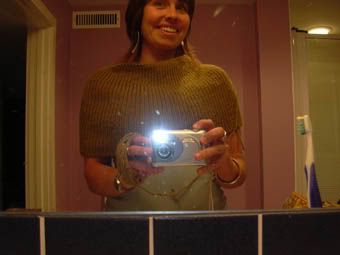 Here's what I'm thinking about the project: First off, what's the deal with 50g balls of yarn? I suppose I've never knit a larger project with 'em, because I've been a little frustrated this time 'round getting only 3-inches in length on the stole for every ball. Another thing - why can't
Debbie Bliss
make her centrepulls easier to find? (The effort I made on the first ball turned into such a disaster that the wonderfully patient
Aven
had to step in and assist.) I am glad, however, to be using superwash wool for the first time - it oughta put the garment in a lower maintenance category in my wardrobe.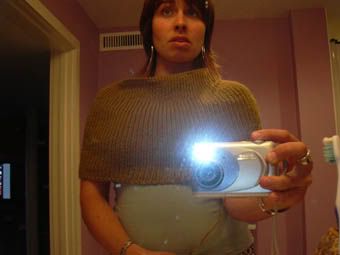 Anyhow, Big Primpin' was fun, but by 2:30am I was too tired to dance any longer.
Sunday I went over to visit my dad's family after
Stitch n' Bitch
. They'd just returned from their annual Manitoulin vacation. I suppose I've conditioned them well because they made a point of seeking out the LYS up there and brought me back these super gifts: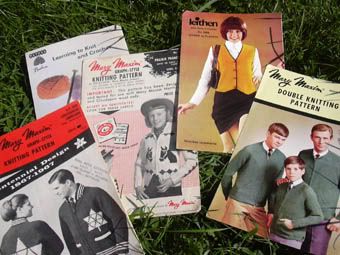 And this:
6 balls of vibrantly coloured wool from Bill and Deb Colville's Manitoulin sheep. They're 100g balls, but there's no yardage on the label. I'm guessing it's worsted weight or thinner, but I think I'll bring it down to
Lettuce Knit
for a second opinion. I already have an idea for the purple....
It's Monday morning now and I'm callin' out from the roof top: KEEP SENDING THOSE ZINE ORDERS IN!! (And if you already received an order and liked it, order more for your family and friends!) Don't delay as I'm on a roll right now - with a mini mailroom set-up in the dining room and Jill coming over to help once a week, the turnaround time's pretty good (as long as your order's straight forward). I've gotten a few e-mails recently saying "Too bad your zine's out of print... maybe I'll get one next time..." but I don't know where the confusion's coming from. There are
lots
of copies of
Take Back the Knit #2
left, as well as all the other zines listed on the
ordering page
, so hop to it!