Boobular!
So I knit the
Minisweater/Boobholder
in three days. Just like
Laura
.
(Of course we all know she spent far fewer hours a day working on it than me though.)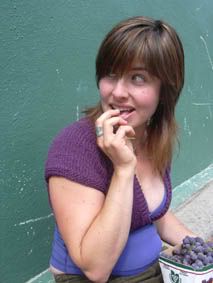 The deets:
Pattern:
Minisweater
from
Glampyre
Yarn:
Naturally Merino et Soie
(50g, 109 yards), colour 109 (purple); 3 balls
Needles:
Denise
size US 9 circs
Timing:
August 10 to 12 2005.
Adjustments made / Lessons learned:
There were only 3 balls of purple left at
the shop
and I used every last inch of 'em. (I'm still not sure purple's the colour for me, but they match the grapes!)
My adaptations are very similar to
Laura's
. I did yarn over increases. I didn't want puffy sleeves, so I ignored all those extra increases on rows 15, 17and 19. I also wanted to make it a wrap, so I ignored the buttonhole directions. To make it a wrap, I picked up 5 stitches on each side at the bottom and garter stitched till I ran out of yarn (15 inches). I worked the sleeves in the round on DPNs, picking up 4 sts under each arm (and ignoring the decreases that corresponded to the puffy-sleeve increases that I didn't make earlier) - woulda done Magic Loop if I knew how. And finally, I didn't put on a boarder.
The ties weren't as long as I would have liked - next time I'll make sure I have at least 350 yards to work with.
This is certainly one of my favourite garments to date - not just in terms of knitting enjoyability (a lovely balance of simplicity without being completely mindless), but for wearability too. I plan on knitting at least a couple more!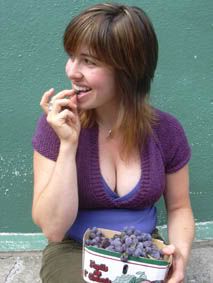 You'll have to excuse my crazy tits - I'm due to start my period any moment now.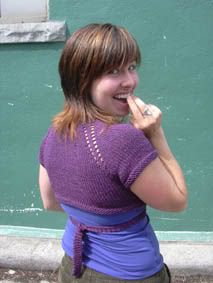 I can't get enough of these grapes! They're organic Sovereign Coronation grapes from
Feast of Fields Farm
in Niagara. I'm so glad that shopping at
Karma
is almost like having a farmers' market right around the corner from my house.