Casual Tuesdays
The summer I was thirteen, my parents flew down to Bermuda for a week and left me to stay with my best friend. The second the airport taxi drove away, I raced downstairs to the fridge and pulled out this half-cheesecake that was in there and ate the whole thing at once. Last night had kind of the same feeling. My friends left for New Brunswick for a month, leaving me their lovely lovely house. I moved in last night, set myself up in front of the widescreen TV (nestled in amongst zines to be collated) and devoured the half-pint of
Kensington Market Organic Ice Cream
left in their freezer. It's crazy amazing ice cream (they have crazy delicious flavours like cardamom vanilla, blueberry lavender, and chocolate-coffee-cayenne), but it tasted even better knowing that I'd have this house to myself for the entire month.
Today I haven't felt any presure to do much of anything.
I mailed off some zines: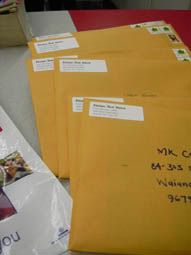 worked on my ribbed stole: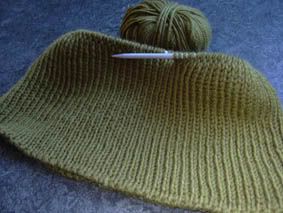 (I think I'm gonna tubular cast-on all sorts of things from now on - it's so smart!)
and I stopped by
Karma
to wish Michael a Happy 42nd Birthday: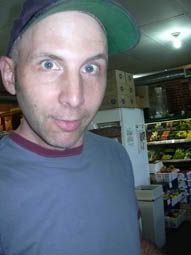 (He's not really into birthdays.) I suppose it wasn't the friendliest to mention that his age is now my age backwards.
I feel optimistic about this month. I think a lot's going to happen...
PS. I added new photos to the
BBQ Tofu recipe
and the
Zine Order
page.