C'mon, c'mon!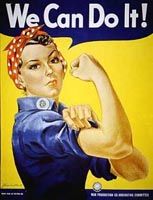 (How cliche. Sorry.)
I was determined to stick to the submission deadline this time, but it looks like I'm gonna have to push it back a bit still.
C'mon everybody - put your knitting down for just a moment and come up with a submission for this upcoming issue of
Take Back the Knit
. And if you really don't have confidence in your skills, work with a friend, or tell a friend to submit. Some great content has been sent in, but I need more variety.
I need interviews!
I need comics!
I need articles with political content!
I need submissions by men and transpeople!
I need patterns that are punk-rock, or kooky, or however you'd describe the kind of stuff that ain't exactly mainstream (more Teva Durham, less Debbie Bliss, catch my meaning?)! I especially need your standard winter wear - toques, scarves, mitts and nose cozies! You've got patterns, I know you do!
I can't put this zine out without you!
Yes, you!
I mean it! (Does anybody want a peanut? I'm beginning to feel like a bit of a maniac with all! these! exclamation! points!))
You've got until Monday August 29 (or even a little longer if you contact me with a proposal by then).
Again, the guidelines are all
here
.
(Maybe if you're someone who frequents
The Church of Craft
,
Craftster
,
Action Grrrlz
,
Mamaphonic
,
The Revolutionary Knitting Circle
or other crafty forums, listservs or groups you wouldn't mind mentioning this on my behalf?)