Double trouble
So here are those cookies I mentioned two Tuesdays ago. I have since had
electrodermal food tolerance testing
and discovered that my body absolutely cannot tolerate sugar, wheat, dairy, chocolate
or
banana, so you won't see me making these cookies again anytime soon. But you enjoy 'em for the both of us.
Chocolate Chocolate Chip Cookies
I adapted this recipe from
In the sweet kitchen
by Regan Daley. Guaranteed to satisfy a sweet tooth and a chocolate craving all in one go. Be sure to serve with a glass of (non-dairy organic) milk to balance things out.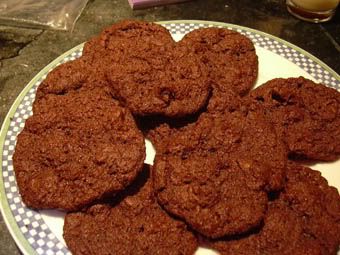 1 cup unsalted non-hydrogenated non-dairy margarine (or organic butter - if only salted marg or butter is available, omit sea salt below), at room temperature
1 cup packed brown sugar
2/3 - 3/4 cup granulated sugar
1 ripe banana, mashed
1 tsp. pure vanilla extract
2 1/2 cups unbleached or light spelt flour
1/2 cup Dutch-processed cocoa powder
1 tsp. baking soda
1/4 tsp. sea salt
1 1/2 cups chocolate chips or chunks
1 cup chopped pecans (optional)
Preheat oven to 350oF. Line two baking sheets with parchment paper and set aside. In a large bowl cream together the marg and sugars, preferably with an electric mixer, for about 3 minutes or until light and fluffy. Beat in the banana and vanilla.
Sift in the flour, cocoa, baking soda and salt. Mix just until all the flour is incorporated. Add the chocolate and nuts (if desired) and mix just until evenly dispersed throughout the batter. (If you wanted to, this would be the time to wrap up some or all of the dough in plastic wrap and then place in a freezer bag in the freezer to be baked at a later date. When you were ready for cookies you'd just thaw the dough in the fridge in its wrapping and then follow the rest of the instructions at that time.)
Scoop out heaping tablespoonfuls of dough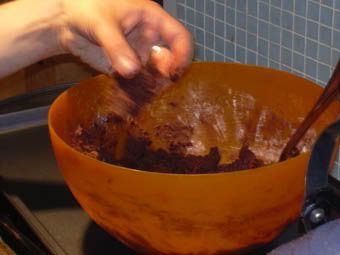 and space evenly on the prepped baking sheets.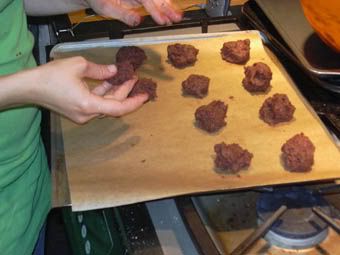 Don't get caught...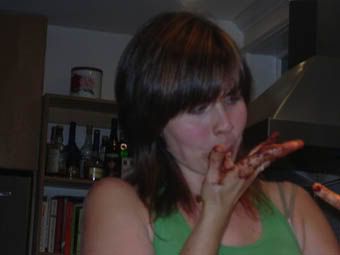 ... licking the dough off your hands.
Slide 'em into the oven and bake for 15 minutes. Eat 'em warm or allow to cool completely on the baking sheet before storing in an airtight container. Makes about 40 decent-sized cookies.
It don't get much more domestic than this: