Foodie Fridays return!
Slowly but surely I'm getting back into this somewhat regular posting thing again. I thank you all for your patience, and hope you're still reading with a relative amount of interest.
Last night Jill came over. She helped me with envelope-labeling and zine-stapling and in exchange I made her dinner.
Sesame Kale Soba
Have you heard? You supposed to have at least three servings of dark leafy greens each week - that includes spinach, kale, and swiss chard. This recipe's great not only because it's satisfying and flavourful, but it's so darn quick and simple to make!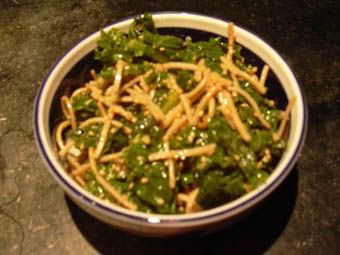 (Damn no-close-up-focus camera!)
1 large bunch green or black kale (about 227g / 8oz)
1 227g / 8oz package soba noodles (or spaghetti noodles in a pinch)
2 tbsp. shoyu or tamari soy sauce
2 tbsp. toasted sesame oil
2 tbsp. sesame seeds - lightly toasted
1 large clove garlic, grated or pressed
generous grindings of the black pepper mill
Bring a large pot of water to boil. While the water's heating, wash kale carefully. Remove think stem ends and discard. Then chop kale to a size you'd like to eat. Add noodles to boiling water and cook for 4 minutes. Add kale to the same pot and stir it in. Continue cooking until noodles are
al dente
. Drain and transfer to a large bowl. In a small bowl, combine soy sauce, oil, seeds, pepper and garlic. Pour dressing on top of noodles and kale. Toss gently and serve.
Now for some general chit-chat:
Yesterday I went on a little
LYS
spree and picked up these lovely things: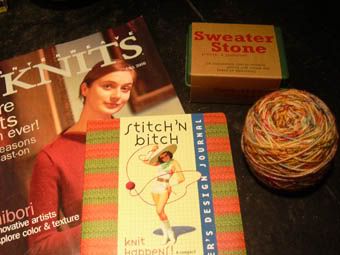 (clockwise from top left: Interweave Knits fall issue, Sweater Stone, Koigu KPPPM, Stitch 'n Bitch knitter's journal)
It feels like forever since I've purchased anything knit-related (which is, in all honesty a bit of a relief - I was proud of myself for managing to stay away from
Romni
's 20%-off-in-July sale). Does anyone else have Debbie Stoller's knitting journal? It seems quite smart to me.
Michelle's 23rd birthday party is this evening. I'm baking a 4-layer version of the
Chocolate Chai Cake
.
Also,
Richard
's coming into town this evening with his less-famous band,
The Bell Orchestre
. They got
a lovely write-up
in
Now magazine
yesterday. I think I have an intellectual crush on
Sarah Liss
.
PS.
Jodi
got her zines in the mail yesterday, so I'm assuming some of the rest of you have too. Please be sure to let me know if you post about it.