On to the next
This morning I visited
Laura's blog
and saw her most recent FO - an adaptaion of the
Minisweater
from
Glampyre
. I knew immediately that it was my next project, so I hopped on my bike and rode down to
Lettuce Knit
. Fortunately, Laura was working. Better yet, she'd brought
her Mini
with her.
I tried it on. (Trying on before knitting is very important to me - even at the risk of looking like a copycat.)
It was hottttt.
(The air was also hot in the shop so I had to take it off pretty fast.)
I decided to make mine in
Merino et Soie
(yum!), colour 109, which is an eggplanty purple (I'm not really a purple grrl, but I figured I needed to branch away from green).
I knit in the shop for a bit and then headed home. I'm excited about this project.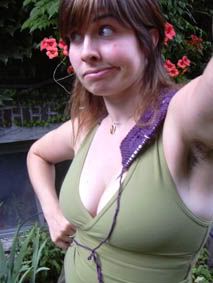 Has anyone else made the Minisweater/Boobholder? I'd be interested to be directed to other folks' pictures.