Stolen moments
Jill came over last night and I made her a dinner of homemade tortillas and refried beans with fresh salsa. Be sure to check back on Friday for recipes.
After dinner, Johanna dropped by too and I put them both to work - Johanna crossing out a typo* in each remaining copy of the zine, Jill performing a sewn bind-off for my ribbed stole - as I make chocolate chocolate chip cookies (Friday, Friday).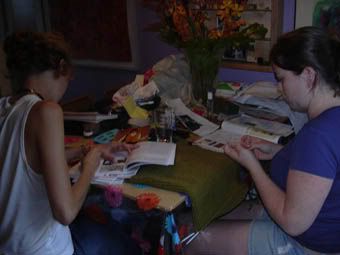 The cookies were decadent but too sweet. The stole turned out great - thanks Jill!!
Model Jill: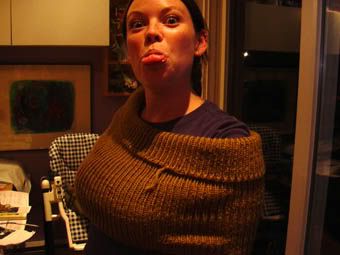 Model me: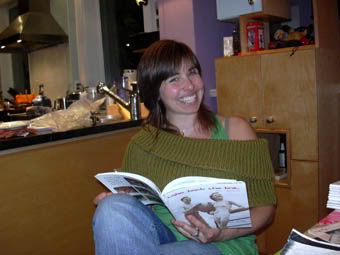 (Checking up on Johanna's work... thanks Jo!)
Pattern:
"fade-out" ribbed stole from
Loop-d-Loop
by Teva Durham
Yarn:
olive coloured
Debbie Bliss
aran superwash merino (50g, 78 m); 5 balls
Needles:
Denise
size US 9 circs
Timing:
July 20 to August 8 2005
Lessons learned:
~ Tubular cast-ons are neat.
~ 50g balls of yarn are stupid.
~ Debbie Bliss yarn is overrated - or do I mean overpriced?!?
~ The 14 inches of mindless ribbing was just what I wanted/needed.
~ Sewn bind-offs are also neat and stretchy - last night we just wanted cookies more, hence my handing it off to Jill.
~ Not to be worn as a tube top - the wearer will look like she's gained 30 lbs. I have to let you know how it wears around the shoulders once the weather cools down (it's a good antedote to air conditioning for now though).
~ Green is the colour of the year for me (had you noticed already?).
Yay! It's been a while since I've had an FO.
* In
Take Back the Knit #2
, MK's Fingerless Gloves pattern says "size US 10 / 15mm needles". The "15 mm" part is wrong and should read "5.75 mm" - sorry!!